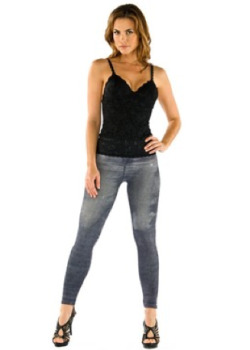 Just what the world needs, more jeggings. Beloved lingerie brand Cosabella will introduce the Cosabella Jeans Collection May 15, a line of skintight faux jeans for those with, well, impeccable thighs. The bottoms will be available at the label's tried-and-true stores like Neiman Marcus, as well as online at cosabella.com and Zappos.
Cosabella's VP of marketing, sales and innovation, Guido Campello, proclaims their e-commerce business "knows no boundaries" and we'd venture to guess, neither do the new pants. Two different styles will retail for $61 and $75, respectively, one a seamless pair with dungaree stitching down the outside of the legs, and a washed version with trompe l'oeil pocket details and a Cosabella Jeans label.
Last fashion week, we saw a baby backstage at one of the shows gallanting around in -- no joke -- a pair of jeggings. She looked adorable. Anyone older than 18 months, however, stands little chance for a flattering fit.