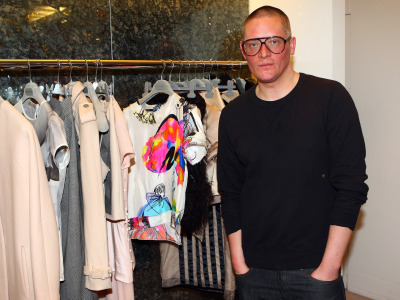 The rumors were true: After being spotted talking to execs at Ungaro some months ago, Giles Deacon has been appointed creative director of the embattled fashion house.
From his comments to WWD following the appointment, Deacon appears to be wisely taking the helm with prudence by opting for presentations over runway shows for a few seasons to thoroughly immerse himself in the "spirit of the house". His first Ungaro collection will debut at Paris Fashion Week this October.
Deacon takes the position following chief designer Estrella Archs' recent departure, presumably due to problems with Lindsay Lohan, the brand's briefly employed and much maligned artistic adviser (hired by former CEO Mounir Mouffarige). Prior to Lohangate, the label had seen more than a handful of designers come and go since the founder resigned from his eponymous company.
Given his own independent success, Deacon offers a promising note to invigorate Ungaro and suggested he'd do so with his signature touch of feminine prints and vibrant colors. We're optimistic for a spring rebirth for the venerable house.