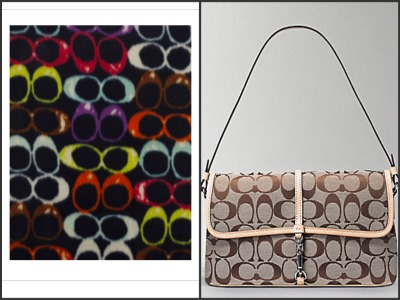 'Tis the season to sue for trademark infringement, it seems. While Christian Louboutin has recently filed two suits over red soles, now Coach has filed a suit against suburban mall mainstay Jo-Ann Fabric for copying its C-logo on fabric being sold in Illinois, WWD reports.
The handbag and leather goods purveyor claims the Blizzard Fleece Fabric bears an double-O pattern that's"confusingly similar" to its trademark back-to-back C logo and is seeking more than $2 million per O/C mark, plus damages and fees.
Coach, a brand that likely deals with trademark infringements quite regularly when it comes to its handbags and logo overall, seems pretty fired up about the pattern, adding false advertising and trademark dilution to the charges. According to WWD's report, the defendants have as of yet declined to comment.