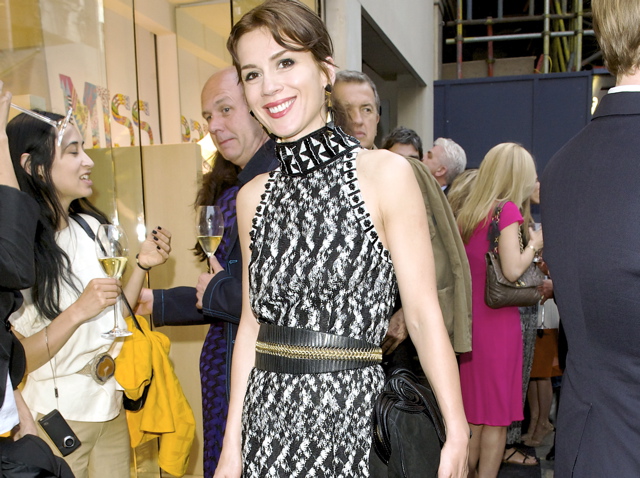 Since 2005, Belgrade-born Roksanda Ilincic has garnered a cult following around to her sumptuous demi-couture -- in particular, the immaculately-tailored eveningwear that continues to make red carpet appearances on the likes of Penelope Cruz and Ginnifer Goodwin.
Recently, Ilincic has been expanding her glamorous contemporary style into casual day pieces and even swimwear -- which may, in fact, be the most wearable we've seen this summer. Too smart to be pigeon-holed as "evening only," we were interested to see how the designer explained the evolution of her brand, and how the original vision has changed since her company's inception.
What's keeping you busy this summer?
My spring collection! The line continues to grow each season, and there has certainly been a lot of interest having the Duchess [Catherine Middleton] wear my dress in Los Angeles. It's so exciting.

You're often pegged as an eveningwear designer, but your recent collections seem to have a stronger emphasis on day-appropriate pieces. How do you explain the evolution of your look?
It is a natural evolution. I love designing dresses, and as my brand expands, I need to offer women beautiful choices for day and for evening.
Compare London street style with New York street style.
London, I believe, likes to take a lot more chances in the way a woman puts together their looks of the day. But in comparison, each city has such a strong sense of self -- that the street style is looking at the woman first and then noticing the complete outfit.
What trends are you dying to try for fall?
Texture. My fall collection has the drapery from the silk giving it a gorgeous sheen, but also there are wools in the outwear and even a dress I did with a stiff wool and a bit of Swarovski elements that appear like armor on the bodice.
Give us a tip on how to style one of your spectacular wool-felt caps next season.
Be free. The turbans I created for my resort line help complete the look. They are more for fun, and styling items to round out the bold colors and color-blocking I designed for resort.

Any hints on what we can look forward to in Spring 2012?
You'll have to wait and see. I don't like to give it away until it is on the runway!