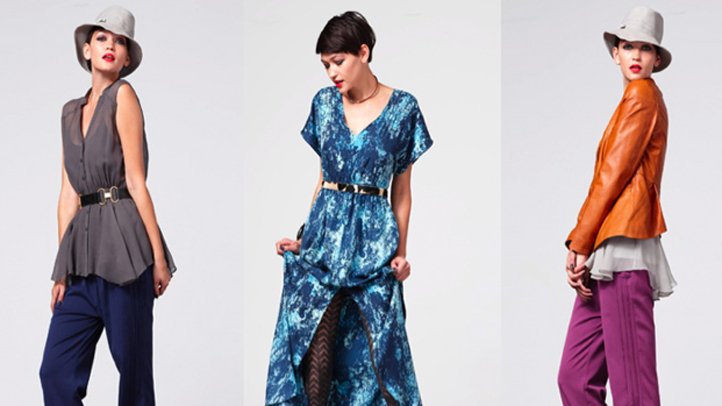 Geren Lockhart founded her label, Geren Ford, nearly a decade ago with intent to provide comfortable yet feminine dressing options to on-the-go career ladies like herself. Her bright silky dresses are a summertime staple on NYC sidewalks, so we caught up with Lockhart to see what's inspiring her own style this season, and how she came up with the now-famous pair of pants that allegedly launched her fashion career.
Where do you look for inspiration if you're feeling "uninspired"?
Museums, and traveling.

How do you think your bi coastal upbringing is reflected in the Geren Ford collection, if at all?
It 100% influences my creative output. I endeavor to bring a balance of fast and slow, old and new, to the line. Everything we design needs to also be functional and usually in more than one way which I think comes from being on the road as a youngster shuttling between my parents houses.

It was allegedly a single pair of pants that launched your fashion design career. Tell us how those came into being.
Ha! Yes one pair of pants. I had moved to New York with an ex-boyfriend who has amazing taste, I was working as an executive and going to Parson's at night and on the weekend. It was a crazy schedule, and I needed something that I could relax in, and still run across the street to the bodega if needed. I couldn't bring myself to don the LA uniform of terry Juicy sweats and Uggs, so I got some Margiela drawstring pants and the ex called them grandma pants. Thus the need for something that wasn't out there yet...easy, chic, sexy, but not sloppy lounge pants. I made myself a pair and people and stores began asking about them.

We love the colors in spring 2011! Tell us how you develop your palettes.
I work from the premise that we're telling a story and that the clothes are the wardrobe to be worn in the story. A lot of the colors for Spring 2011 were a bit washed out or faded. Imagine the textiles and clothes you would have after a 3-month summer on a Greek isle lounging in the sun and dipping in and out of the salt water--washing everything up and hanging it in the sun to dry.

What was the last book you read?
"Punch & Imbibe." I'm obsessed with the art of Mixology and have come under the instruction of an amazing [mixologist] here in LA. He insisted that I read "Punch and Imbibe;" they are very much worth the read.
What do you think of this season's hot pink trend?
I was in high school in the 80's so I think it's divine!

Which of your own pieces do you find yourself wearing the most this spring?
The drapey striped jersey tees, and the stretchy slouchy harem short shorts.

Any big trips or summer excursions on the horizon?
YES...plotting a month in Europe. A few weeks in the UK to work on a collaboration project and see the countryside, then off to either Sweden or Greece for the rest.

What can we look forward to in spring 2012?
That one is still in the incubator!