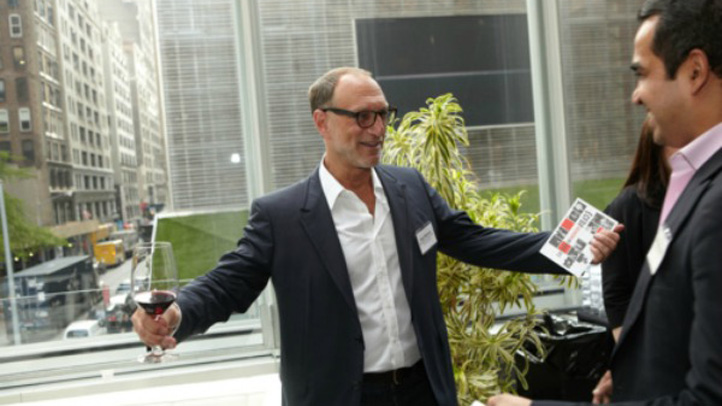 The Business Insiders is a series that explores the business side of fashion for up-and-coming designers, talking with a range of insiders on what it takes to build and sustain a company.

You might not be familiar with the name Gary Wassner, but chances are, some of your favorite designers have him on speed dial. Wassner is co-CEO of Hilldun, a factoring firm that specializes in the fashion industry, with clients that range from up-and-coming talents to 7th Avenue stalwarts with revenues on up to $150 million. He is also a business mentor for the CFDA Incubator program (Wassner is pictured above with designer Bibhu Mohapatra, whom he has mentored in the program) and a staunch proponent of "Made in New York" manufacturing. We chatted with Wassner about what he looks for in young talent and his predictions for the fashion industry in 2012.
In laymen terms, explain what "factoring" is, and what you do.
Basically, how it works is: a retailer will place an order with one of our clients. They [that client] don't know if the store is going to be able to pay the bill once they ship the order, so they submit the order to us, and we tell them if we approve it. If the store does not pay, and we have approved it, we pay for that order. Once a client ships the order, we then do the collection work. We also finance production -- so we advance funds on orders to help designers purchase fabric, pay factories. We lend against invoices, and then pay ourselves back. With less and less credit being offered, we help with cash flow. And there are benefits to working with us, since we work with so many people in the fashion industry.
How did Hilldun start?
I was getting my doctorate in philosophy at Bryn Mawr College. I took a leave during the final stages to help my father, who was diagnosed with cancer. He was running a factoring firm that focused on real estate. The firm morphed in to what it is today when I started working with Betsey Johnson 30 years ago. She had just opened up her company, had orders, and had no idea what to do with them.
What do you look for when you take on a new client?
A viable product is the most important thing. Their aesthetic has to makes sense. I've really become a judge and jury myself after doing this for so long. Also who they are selling to is a really good indicator [of future success].
You go to quite a few shows during fashion week. What kinds of things stand out to you?
Fit is really important. When the fit is bad, it gets returned. I think about the way something is going to look when it ships [to a store]. I also look at who's there. I talk with people from Saks [Fifth Avenue], Neiman Marcus. They have a really good sense of who is up-and-coming. I just went to dinner with Ron Frasch [the President of Saks Fifth Avenue] to talk about what's working for Saks in different categories. I have a lot of those conversations.
What are the challenges right now for designers who are just starting?
I actually think there are more opportunities than challenges right now. To make it in this business though, you have to be a great businessperson. It's a tough business and a lot of work. If you really just want to be a designer, you should probably just go and work for someone else.
What misconceptions exist about what it takes to make it as a designer?
A lot of people think, "If I've made the front page of Women's Wear Daily, I've made it." "If Barneys places an order, I've made it." "If I'm in a Vogue editorial, I've made it." It takes a lot more than that.
You're a big proponent of manufacturing in New York City and revitalizing the Garment District. What value do you think the local movement has for young talent?
There is an opportunity for "Made in New York" right now that hasn't existed in twenty years. There is a huge change happening, support is mobilizing in New York City with all of the creative communities. For designers, the opportunity is enormous. First, designers have the ability to control quality when they manufacture in New York. Costs are also going up and up in China, so there is less value and manufacturing there. Also, when you produce locally, it is easier to manage the logistics, especially with small productions. Producing in New York allows a lot more flexibility for designers.
Tell us about what you do as business mentor for the CFDA Incubator.
We analyze financials, mentor designers in regards to merchandising and sales. We also have a program with NYU Stern students, who are getting their MBAs, who work with designers on their business plans. We are now in our second CFDA Incubator class. It's really a fully-rounded opportunity for designers.
How did you initially get involved?
I've known Steven Kolb and Diane von Furstenberg for years. They really deserve the credit. They came up with the idea of having business mentors. I was writing for CFDA on factoring and managing relationships. The idea for the CFDA Incubator program came together and I knew I wanted to be involved.
With so few investors out there, how do you suggest designers grow their businesses?
It really has to be organic growth. These businesses have to learn how to be profitable. It's really not that different than any other business. My advice is: Don't give away equity and retain ownership. It's important to have full creative control of your vision.
Any predictions for what is going to happen in 2012 to the industry?
I don't see any slowdown happening the luxury category, which is fortunate for those that produce in that category. There have been incredible increases in the last year at places like Hermès, Louis Vuitton. I also think that we are going to be exporting more and more from New York over the next year. The rest of the world is really eager for products from great American designers.