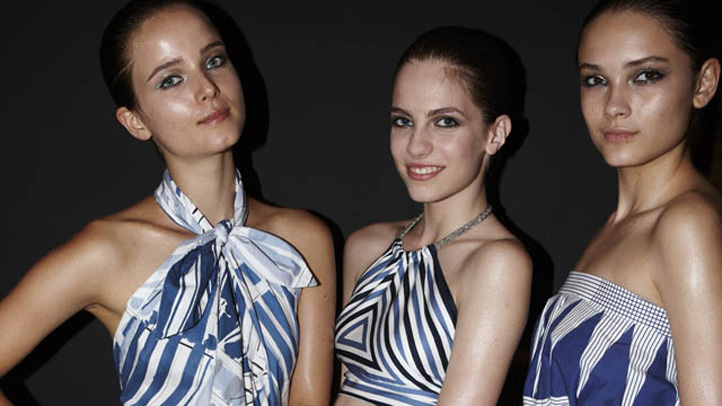 Salvatore Ferragamo chose New York for the first time to stage its resort show this season. The James B. Duke mansion on Fifth Avenue on the Upper East Side, built in 1912, served as the backdrop, and by show time, a throng had gathered outside screaming in anticipation of Eva Mendes' arrival. Wearing a nude and white Ferragamo cocktail dress, she stepped out of a town car, waved to the crowd, and ascended the mansion's staircase. Emma Roberts, Freida Pinto and Ashley Greene also took a front row perch in the Beaux Arts mansion's grand foyer for the show.
More than a few guests muttered under their breath, "I guess the recession is over," admiring the imposing space, which had been filled with Dutch hydrangeas, delphiniums and white peonies. The timing for this grand presentation was certainly premeditated -- it served as an unofficial kickoff for Ferragamo's public offering on the Milan Stock Exchange. The brand seems to adhering to the age old mantra of you have to spend money to make money.
Karlie Kloss, Mariacarla Boscono, Karolina Kurkova and Vanessa Traina -- among others -- ascended the mansion's staircase in looks inspired by nautical fashions and 1930s screen sirens (the '30s also served as inspiration for Ferragamo's men's Spring 2012 collection). These were the kind of clothes that one could imagine Doris Duke herself (the late heiress and former inhabitant of the mansion) wearing throughout her day -- a point certainly not lost on Creative Director Massimiliano Giornetti. Giornetti has been heading womenswear at Ferragamo for precisely a year, and he seems particularly interested in emphasizing the brand's glamorous history.
There were cotton skirts and dresses with unique trompe l'oeil effects, perfectly cut cream gabardine pantsuits, cashmere gold and ivory striped sweaters, a knit jumpsuit paired with an anchor bedazzled in Swarovski crystals and fluid satin gowns. Stand-outs were a navy satin top with piping detail and a matching satin pant (right on trend with the pajama look happening at the moment) and a beaded fringe evening gown that is sure to make a red carpet appearance. Art Deco jewelry from Fred Leighton complimented the collection, and captain hats with metal chain detailing and oversized navy sun hats added some fun to the show.
Of course, the bread and butter of the Ferragamo house is accessories, and they were certainly not an after thought with this collection. There were duffle bags made with interlocking chains, mirror-lined minaudières, velvet clutches, wedges with glass mosaic heels and azure satin espadrilles.