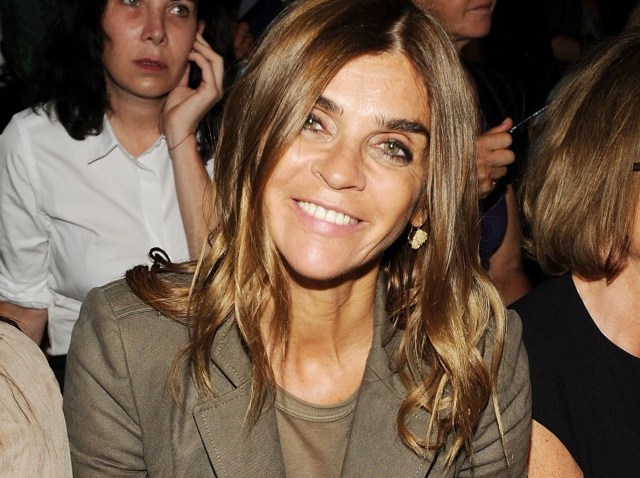 After departing French Vogue in 2010, the fashion industry has been eagerly anticipating (and speculating about) editrix Carine Roitfeld's next big move.

And now we know: Roitfeld has joined forces with Barneys to serve as a muse and guest stylist for the Mario Sorrenti ad campaign and catalog Madison Avenue's iconic flagship windows.
"To a French girl, it's a big, big dream," Roitfeld told WWD about her newest gig. "It's good to have a new life, because now I can do projects that I never dreamed of before."
We can't help but feel a touch of pride that the fierce Parisian set her sights on New York, referring to it her "dream city."
Barneys CEO Mark Lee, the maestro behind the department store's recent sweep of internal and corporate revamps, was no less thrilled with the forthcoming collaboration, indicating that it went deeper than just Roitfeld's work:
"[Her styling for Barneys will reflect] the woman that she is and her personal style, which we feel is the perfect reflection of our customer. She is the ideal muse as well as editor. She has a unique and extraordinary personal style. She appeals to all ages. She is independent and strong, and yet she is completely feminine. She is a woman of the world, which we like to think our customer is, as well."
The visuals will also include a short film directed by Sorrenti, which he describes as "something very personal, a potrait of her, in a way," depicting Roitfeld in an instructional and inspirational light.
In talking about the crossover from editorial to retail, Roitfeld maintains that she's always kept a "real woman" in mind. At present, the Barneys retail venture is slated just for the fall season, which seems to be a conscious decision on Roitfeld's part, as she reiterated her desire to dabble.
"The only sure thing I know is that I will keep my freedom," she added. "I can be a muse for a designer, I can do work for some magazines, and do advertising, and maybe something like Barneys, but still keep my freedom."