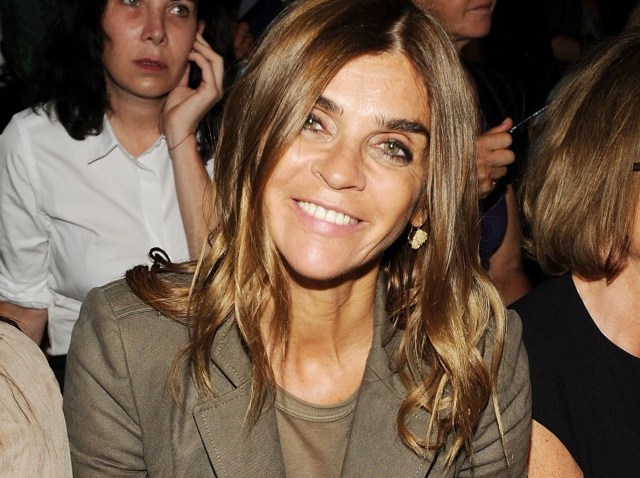 Tom Ford was quick to crush rumors late last week that Carine Roitfeld, who recently resigned her post as editor-in-chief of French Vogue -- would perhaps start working with him as a collaborator (since he counted her as a muse during his Gucci days) now that he's back designing womenwear. In an e-mail to Cathy Horyn of The New York Times, he wrote: "Carine and I have no plans to work together at the moment, and it is nothing that we have even discussed, but of course I think she is brilliant and we are close friends so who knows about the future."
Indeed, in an interview with WWD, it seems Roitfeld herself is not ready to even commit to the idea of a new job as of yet.
I have always been a freelancer, so when I was hired 10 years ago, I found it very difficult to have an office, an assistant, a schedule, fixed vacations. But at the same time, it was such a huge job that I said yes. It's been an incredible adventure, but maybe in my heart and soul, I am more of a freelancer. I'm surprised I even stuck it out this long, but what made me stay is having a boss like Jonathan [Newhouse], who is an incredible man who gave me total freedom, and God knows I pushed the boundaries.
While no one can deny that she boosted circulation and is leaving on top (after both 10 years at the helm and having shepherded the magazine thorugh its 90th anniversary issue), it seems there is some chatter around whether other factors might have contributed to her departure. A few anonymous sources in WWD's piece suggest there was a certain nepotism to the editorials in the magazine -- that Roitfeld only featured "designers she liked," which might have created conflicts with advertisers.
Meanwhile, speculation over who might succeed the larger-than-life editrix abound: The name at the top of everyone's lists thus far seems to be Emmanuel Alt, the current fashion director at French Vogue, though other suggested candidates include Virginie Mouzat (fashion director at Le Figaro) and Aliona Doletskaya (former editor-in-chief of Russian Vogue).