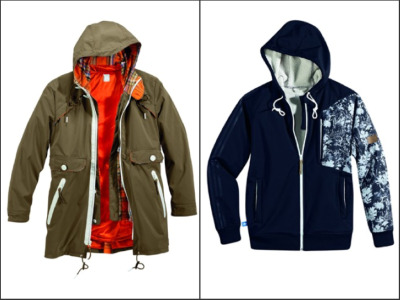 Burton Snowboards and Adidas have come together on a line of après-shred apparel and footwear for next season.
Hitting Burton and Adidas stores nationwide this November, the apparel (21 pieces between $40-$350) and kicks (seven styles between $90-$200) will feature both brands' recognizable logos and both sides' specialties of weatherproofing tech and street-friendly silhouettes.
The collab represents what seems to be an emerging trend of bringing on an admired partner in an aspirational field, rather than try to emulate the best in-house -- J. Crew's emerging trend of highlighting special-edition products by legendary brands is a case in point. Since Adidas SVP Ben Pruess is a longtime snowboarder, he knows that Burton was the best to skew towards snowboarders. On the flip side, from Burton's point of view, Adidas offered a universal, everyday-cool appeal for life off the slopes.