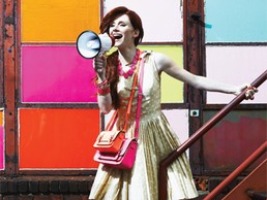 After long eschewing celebrity spokesmodels in its advertisements, Kate Spade's Spring 2011 campaign features redheaded actress Bryce Howard (of "Lady in the Water" and "Spiderman 3" fame) toting a megaphone.
The brand has long featured decidedly cheery, colorful ads, and the actress -- toting the brand's latest "Scout" handbag in various sherbet tones -- seems to fit right in. In an interesting twist, Howard told WWD that she's actually a long-time devotee of the brand: "There's something about that brand that, from a young age, I really, really, really connected with. It was always the thing I wanted for Christmas .. since I was 15 or 16."
Look for Howard clad in Kate Spade in a series of colorful spreads in which she apparently wears roller skates, rides a bike, and -- as in this example -- yells into a megaphone.