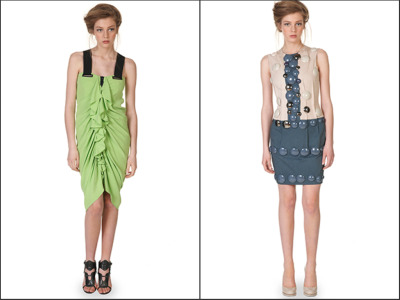 Londonites scrambled to get their hands on Roksanda Ilincic's collection for popular British shop Whistles on their Fashion's Night Out venutres last year, and now that the largely affordable second collection will ship internationally, we Americans can get in on the action.
Not one piece of Roksanda Illincic's collection of dresses for Whistles exceeds $495, despite a distinctly high-fashion feel and just generally gorgeous, wearable styles. Cult followers can thank the company's CEO, Jane Sheperdson, Britain's patron-saint-of-fashion-counterpart to our very own Jenna Lyons, in a way. Sheperdson has set forth on a new vision for the brand to polish up, fashion-wise, and send its design creativity soaring. (We should also thank Style File for bringing it to our attention.)
Other brands on offer at Whistles that you might not normally find in the states: Alex Monroe, a jewelry label focused on charms; Hope, a chic Swedish-based brand; and of course the eponymous in-house line, which has more than a few stunning day dresses currently on offer.