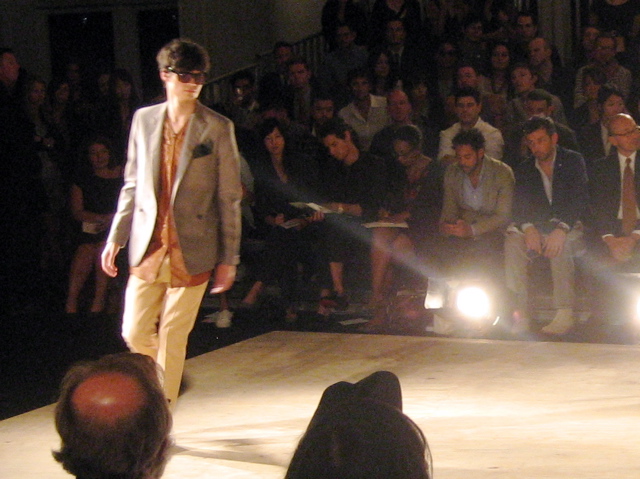 It's not easy to translate what began as a womenswear brand into a vision that men can get excited about, too, but Phillip Lim has managed to do exactly that over the past few seasons. This afternoon, Lim presented his Spring 2011 collection to a room that was clearly itching to see what the retail guru had up his sleeve -- a dapper Kanye West included, who sat grinning from the front row in a slim-cut suit.
Inspired by "rockers, rollers and all-around strollers," Lim channeled the spirit of Brian Ferry and exuberant 20th century "Dandies," evident in his copious use of black-and-white stripes, sequins, beading and paisley (and one sequin rooster tee in particular may find its way into our closet, menswear or not). To put it simply, it was "elegance, with a little street swagger," according to Lim, which actually goes a long way toward describing his aesthetic in general, which oscillates between classic and quirky.
Next season, stylish gents should keep an eye out for Lim's spectacular paisley suede lounge pants in warm ecru, which had everyone in the audience leaning forward in their seats to get a closer look. As for us girls, we hope to see the "shaggy suede" portfolio case -- or simply more shaggy suede in general -- at the women's presentation next week.