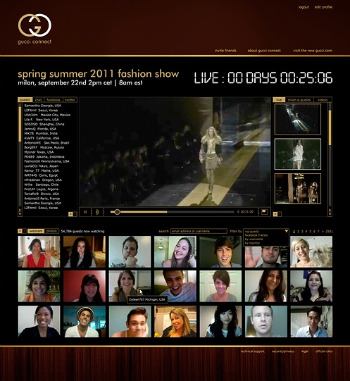 As livestream technology continues to build momentum amongst the fashion set, we can expect to see more and more shows being broadcast to the masses. During New York's recently-wrapped Fashion Week, Milk Studio's partnership with AOL included the livestream of over 40 designer shows on the network's fashion-focused site Stylelist, marking a significant move towards the increasing democratization fashion.
Still, some labels are only quasi-embracing the trend. The Spring 2011 season is the first time Milan-based brands Bottega Veneta and Gucci are offering livestreams broadcasts of their shows on their respective websites (Gucci's show already aired on Wednesday), however Bottega Veneta is eschewing the view-one-view-all method in favor of offering invitation-only access to top customers and regular guests who are unable to make it to the actual runway presentation this Saturday. Following the show, those VIP viewers will be able to reseve the Spring 2011 immediately on the website.
Gucci, on the other hand, celebrated the recent launch of its redesigned website and online boutique by inviting fans to come out and view the house's runway show in the form of an all-out interactive extravaganza. After signing up for an e-ticket on GucciConnect.com, and then checking in, guests could connect to the site via webcam where they could chat, tweet, and network with other virtual guests before taking their—yes—assigned seats and watching the livestream. According to Fashionista, over 10,000 guests participated—in all likelihood, an astronomically-high figure compared to those who will be taking in tomorrow's Bottega Veneta show from afar, which just goes to show that even the most high-end luxury brands have different definitions for front-row fashion.