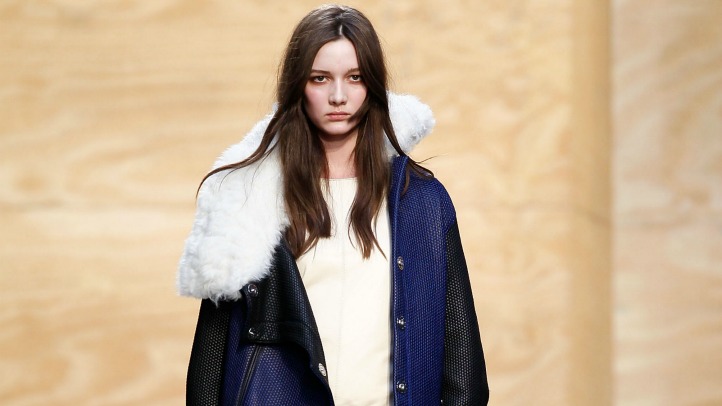 No one has a handle on the way Downtown "It" girls want to dress quite like Proenza Schouler duo Lazaro Hernandez and Jack McCollough. Their Fall 2012 collection was inspired by the Far East -- think Karate and kimonos for the modern jet-setter. You might not be able to afford the clothes, but that doesn't mean you can't mimic the runway hair and makeup, which was decidedly unfussy and focused on the individuality of the models who walked in the show, including Joan Smalls and Meghan Collison.
Frédéric Fekkai lead stylist Paul Hanlon told us, "They [Hernandez and McCollough] wanted the hair to be really simple. You can see in the clothes that there is a lot of inspiration coming from Asia, martial arts. So because of that, they didn't want the hair to have a retro look."
As for how his team did the hair, Hanlon explained: "All the girls came here in hair and makeup, and we just wanted it stripped down. We washed the hair using Frédéric Fekkai clarifying shampoo to make the hair really clean. Then we put the hair behind the ears with a little bit of silking cream -- it's almost like a leave in conditioner, it weighs the hair down a bit. We wanted languid skinny hair. For some of the girls we used braids at the base of the head to take the weight out of the hair (pictured below). It's not about volume, it's about flat. We wanted it to look like the models just walked into the show, threw their jacket over their head and jumped on the runway."
To get the look, Hanlon said, "It has a lot to do with the hair cut. Think about having layers put in your hair, to have the hair look more graphic, razored out, sliced at the end. It's sexier hair, not so classic."
At home Hanlon suggests: "Use silking cream while your hair is wet, and then just tuck it behind your ears. Don't tie it in a bun, that will make it too curly. Then, just leave it to dry naturally. What you get is a really easy, unkempt texture. And then, just add some cream at the ends."
As for the makeup, M.A.C. cosmetics' Diane Kendal told us her vision was "raw and edgy." Eyes were lined with Richly Honed Pro Sculpting Cream, a product which launches in August. The dark brown contour grease was applied through the upper lash line, blended over eyelids and also used to weather the lower lash line. Kendal kept the lips bare, using only lip conditioner. As for how to get the look at home, Kendal advises women to try a greasy eye, and keep lips natural, just a little lip balm is all that is needed she says. "This is easy, cool girl makeup," she told us.