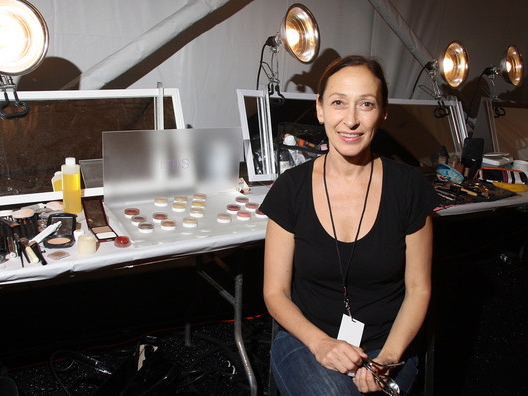 Rose-Marie Swift's organic beauty line, RMS, has garnered a cult following dedicated to her skin-soothing concealers, rich eye shadows and soft lip shines, all of which are carefully crafted from from "live" ingredients. We caught up with Swift to hear why she abandoned mainstream products for all-organic alternatives, and what challenges organic brands face in an overcrowded beauty market.
When did you decide to launch your own beauty line?
You would think that a makeup artist would have in the back of her mind the idea to do her own line but, oddly enough, that was never really my thought process. Years ago, I had some life-changing health issues and, through my own research, found there was a potential link to the beauty industry. I wanted to share these findings and the health risks of some of the beauty rituals we rely on every day by creating my site, beautytruth.com. It drew interest from the press and from the public, and the biggest question asked repeatedly was: "What products do you recommend?" ... So I took it upon myself to really start researching and look much deeper into some of these chemicals and so-called "natural" ingredients that are in our beauty products. I wanted the truth and what I found did not make me happy. That is what inspired me to do my own line, RMS Beauty.

Why is organic beauty important to you and your customers?
It is important because it is smart. Who wants products containing oils and herbs that have been grown in pesticide-laden fields that are later exposed to harsh and debatable solvents? Who wants them heated to high temperatures in the extracting and processing department that destroy the very life essence of these sensitive ingredients? They all become dead ingredients that may as well be labeled man-made synthetic chemicals. I want to give people a fresh beauty "salad," so to speak, rather than french fries and a burger.

What's a common misconception about organic beauty?
The biggest misconception is believing a product is organic because it says so on the box or front label. Lesson one: NEVER believe the product is organic just because it says it on the box! Read the ingredient decks on the back. Then you will know immediately if it is organic or not. Usually a company will say their product is organic yet there may be just one or two ingredients listed on the deck that are organic. There is no one regulating this in the beauty business. They are trying, but millions of dollars will be made by these green-washers 'til something is done about it and make it illegal to make these claims.
What makes RMS different from other organic beauty lines?
It's not another powder mineral line. I took the concept of organic skin care, due to its moisturizing qualities, and added the color minerals with it. I suspended the minerals in the cream base in order to avoid the long term drying effect minerals alone have on the skin. This allows for the skin to be protected and moisturized yet have an abundance of color without aging the skin. I also I did my own formulas, and I control the purchasing of every single ingredient that goes into my product. I do not trust cosmetic manufacturing labs when it comes to ingredients. One individual's idea of a quality raw, organic ingredient may not be the same as mine.

What are some of the challenges faced by organic beauty brands?
I would have to say that the public still hasn't been educated enough and is putting too much faith in the beauty industry, thinking they are protecting us. Some of these chemicals have been known to disturb our hormone receptors, endocrine systems and reproductive organs. More information of the potentially problematic repercussions of today's chemicals in cosmetics, nail polishes, shampoos to hair dye, skin whiteners, and anti-aging creams need to be communicated to the mainstream public. It is starting to happen slowly thanks to bloggers and sites like yours asking these questions.

Which of your products do customers reach for the most?
Initially, I'd say the Living Luminizer which adds the most gorgeous, sheer, dewy luminescence to the cheek bones and face but more recently the "Un" Cover-up seems to be picking up speed. This product just won the Allure Best of Beauty Award. People seem to accepting organic foundation now more than in the past because it really does work better synergistically on the skin.