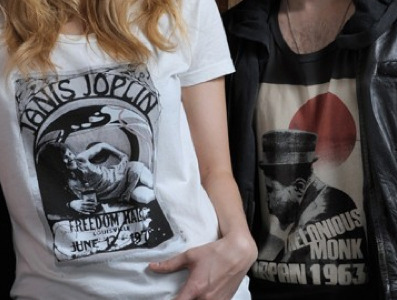 Goodness knows a T-shirt collaboration is nothing new, but Barneys' latest line of Archive 1887 rock 'n' roll tees, created in conjunction with Sony Music, features never-before-seen artwork and rare photos of the label's acts as far back as1887. And, as a bonus, each shirt has a dedicated playlist.
Sony contributed its extensive library of images, and reached out to the network of families of their extensive roster of stars to get rights to use their photos and artwork. The result is an inspired selection of men's and women's styles emblazoned with icons from Bob Dylan to Miles Davis, priced between $49 and $58. Though Archive 1887 launches at Barneys, the website lists Bergdorf Goodman, Bloomingdales, and others as stockists.
They may be classified as old-school rockers, but there's a modern twist to the collection - each shirt's tag comes with a key charm and an online code that, when entered at archive1887.com, gets the buyer a streaming playlist featuring all the musicians participating in the collection.
The true test of authenticity, of course, will be the worn-in softness - we'd prefer to imagine the duds lived through a few crazy adventures before they landed at Barneys.