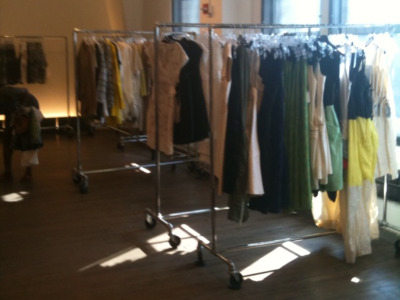 Proenza Schouler kicked off its two-day sample sale event today, welcoming a mob to grab some substantial bargains on designer duds.
While waiting in the air-conditioned lobby, we observed both hysterical shoppers and calm fashionistas plotting a direct path to the shoes, plus one woman with an empty rolling duffel bag, claiming she had to tote stuff for "all her friends." Yeah, right.
The spacious sale space was stocked with a solid array of clothing and a handful of bags and belts, but dissapointingly, we were told that the shoes were "all gone" by an employee, even though we were third in line to enter the room. So do take note: NO SHOES LEFT.
Here's what was:
- $20 rough-hem trousers
- A small selection of shorts around $100
- Cotton tees (just a few of which were tie-dye)
- Crewneck sweaters for $100-$200
- Current season dresses in sample form ranging from $140 printed frocks, to leather and embellished shifts for upwards to $2,000.
By the time we fled, the place was mobbed and shoppers were fierce (we're talking mirror co-opting and pilfering each other's piles of goods). The sale goes on through today until 6pm, then again tomorrow 9am-6pm. We strongly recommend hitting it up sooner rather than later if you want to get anything good. And by soon, we mean, now.