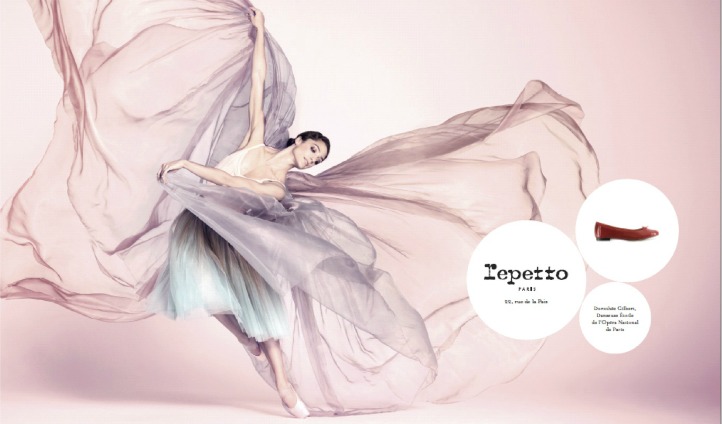 It's fitting that leading French ballerina Dorothée Gilbert is also brand ambassador and ad campaign star for cult dance and shoe brand Repetto, a favorite of the likes of Kate Moss and Rachel Bilson.
Repetto was created in 1947 by Rose Repetto at the request of her son, famed dancer Roland Petit. Cut to Repetto's Spring 2012 ad campaign, and the brand has stayed true to its roots: Gilbert is photographed dancing in an ombre tutu and Repetto pointe shoes.
Gilbert, in New York City to perform as the principal dancer in Paris Opera's "Giselle" at the New York City Ballet, sat down with us to talk about her enviable off-duty style.
"My personal style is casual," she shared. "I like Zadig & Voltaire. I love Chanel. I like to mix pieces from Zara with something from Versace." Gilbert says her foolproof outfit consists of jeans, a T-shirt, Repetto flats (Gilbert's favorite style is the Zizi oxford in red) and a Chanel blazer.
The ballet dancer, born in Toulouse, France, now resides in Paris. She, regularly travels the world with the Paris Opera to locales ranging from Australia and Japan, but this was just her second visit to New York City. "I just want to buy everything," she joked.
One of the first things Gilbert did upon landing was head to Soho to shop. "I saw this second-hand shop and I found this incredible Dolce & Gabbana dress with a black train. I bought it and wore it that night. I love wearing beautiful dresses."
Gilbert pointed to some key differences between the way New York City women and Parisienne women dress. "I think the style is more classic in France. Here you can be a very extravagant person. You feel very free here…more open."
Gilbert says her life as a dancer has impacted her personal style. "We wear beautiful costumes, we are used to wearing things of quality, and I think in this way it has influenced me, " she said. "When I look in the mirror in these costumes I feel great, so I want to feel the same way in the street."
Certain costumes Gilbert has worn over the years have stood out. "I think Carmen is very sexy," she said. "I also like the dress of Cinderella. It's a pink dress with long gloves. I love the style of it. It's very glamorous."
On Gilbert's fall shopping list is a black leather jacket. "I don't know where, but I have to find it," she said. "Balenciaga does those sort of things well."
Related Stories:
Street Style: Jamie in Stripes on 60th and Madison