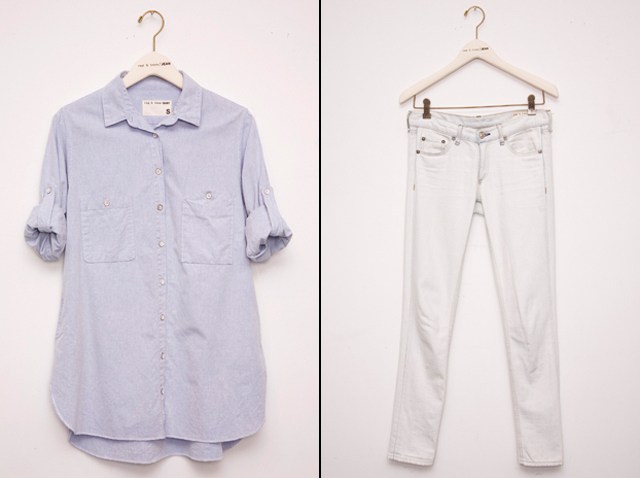 This February, Rag & Bone will launch not one, not two, but three new diffusion collections. Designed as wardrobe-building complements to the primary line, Rag & Bone/JEAN, Rag & Bone/KNIT, and Rag & Bone/SHIRT will offer functional, stripped down versions of Rag's signature silhouettes.
JEAN will consist of three simple denim staples -- the Skinny, the Straight, and the Stiletto Boot -- while KNIT will feature slubby tees and tank tops in a range of cuts. We're most intrigued by SHIRT, which promises washed cotton variations of Rags's trademark men's-inspired shirting. Chambray oxfords, anyone?
We're loving the (recession-instigated) trend of "purifying" one's fashion collection to the very essentials. Alexander Wang made his uber-cool downtown vision accessible to all with T by Alexander Wang. Likewise, we hope the range of seasonless, trendless staples at Rag & Bone will usher new clients in the door, and convert new devotees to this particularly lovely young brand.
Visit Rag & Bone stores at its West Village location at 104 Christopher Street, or in Soho, at 119 Mercer.