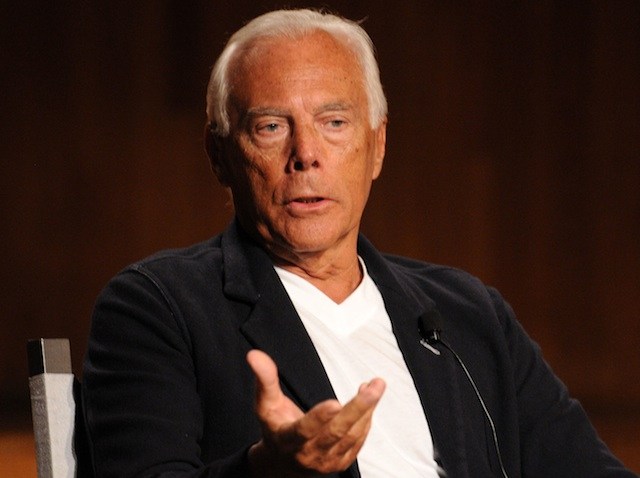 In recent weeks, Giorgio Armani has been railing against fashion companies who have chosen to go public, calling out labels like Dolce & Gabbana and Prada for creating "ridiculous" men's fashion, all because "fashion today is in the hands of the banks and of the stock market." (It should be noted that Armani's comments fell mere weeks after Prada had introduced its IPO.)
Diego Della Valle, CEO of Prada's parent company, Tod's, fired back at Armani, saying that the designer's "attack does not make any sense," and even went so far as to suggest it was Armani's advanced age that caused him to speak so freely.
Well, it seems, Armani certainly isn't one to let Della Valle have the last word. The designer has penned an impassioned letter to Italy's top newspaper, Corriere della Sera, defending his creative integrity and independence. WWD translated a portion of the letter:
"I don't need alliances, complicity, or need to surround myself with international jetsetters," he wrote. "I have too much respect for myself, for the public, and for the people that work both with me and the fashion industry to renounce any sort of intellectual honesty that influences and orients my life, even at the expense of attractive economic opportunities ... I don't need any of the money from the stock exchange -- not for growth, not for globalization, not to aggregate my brand."
Though he doesn't call out Della Valle (or Prada) by name, Armani's words aren't necessarily subtle when it comes to criticizing the decisions of public companies.
It should also be noted that Armani has been having quite a week, between dressing the new Princess of Monaco for her wedding and staging a couture show in Paris. That said, the designer is turning 77 next week, and can't helm his namesake brand forever: One can't help but wonder if these messages are meant more for the next generation to take heed of his wishes for the company.