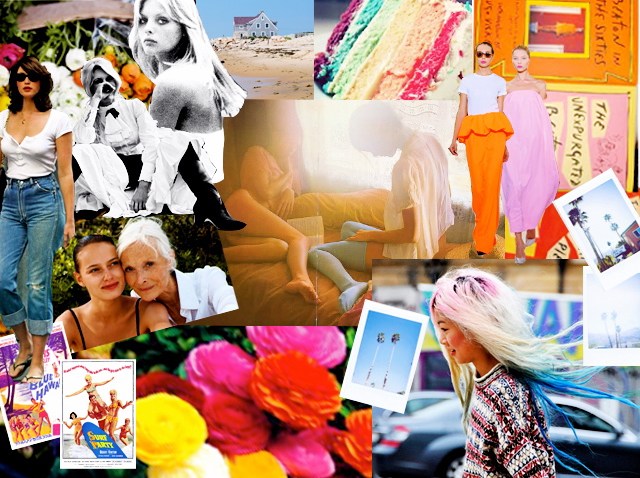 Silverlake-based best friends Emily Faulstich and Kimberly Gordon established their feel-good knitwear brand, Wildfox Couture, four years ago with intent to share a love of vintage, sleepovers, and the color pink with the world. Famous for their groovy sweatshirts and floaty, sequin-embellished sundresses, we were desperate to see what was on the minds of two of the loveliest ladies working in west coast fashion. Thankfully, their style this season is exactly as sunny and "rainbow bright" as one could hope.
From Kim:
The Wild Wild West: "Really into '60s Western trends at the moment, the perfect example being Brigitte Bardot's character in Shalako. Love those almost-ugly 60's boots everyone was wearing then, mixed with old fashioned western blouses!"

Michelle Pfeiffer: "Michelle's ice queen beauty has always been an inspiration, but especially with today's white trend! Her ghostly sharp looks, strong female roles (Batman, White Oleander, B.A.D Cats, Scarface, The Witches of Eastwick) and outspoken attitude make her one of my favorite women to watch."

Beach House Style: "There is nothing more romantic than a cool summer day at an East Coast beach house, Connecticut or the Hamptons. I just close my eyes and picture myself there and fashion inspiration floods my mind."
Pastel Rainbows: "Ingrained in me by 1987 My Little Pony's, rainbow hair, pastels and pink will always inspire me, but especially right now as spring arrives."
From Emily:
Photography from David Hamilton: "I love the ethereal misty quality of the film and soft pastel colors. These pictures were all taken in the '70's and were part of a collection called 'Demoiselles.'"
Fujifilm: "My Fujifilm instant camera is the best thing ever! I can't stop taking pictures with it, it's addicting. These are from Palm Springs last weekend. All of the pictures come out a bit overexposed but that's what I like about it!"
Jil Sander Spring 2011: "Jil Sander's spring collection is perfect and so inspiring. Never seen such a good color theme. People shouldn't be afraid to wear bold and bright colors all year round."
Cecil Beaton Book Covers: "Cecil Beaton's book covers are so good. He designed and painted them himself, and aren't they great? He was a costume designer for the theater and film, a photographer, interior designer and fashion designer. (He made silk ballgowns and photographed Queen Elizabeth in one). He was made a knight in 1972."
Beachy Flicks: "Beach movies from the early '60s are so inspiring. The colors of the film are all totally over-saturated and the pinks are almost neon. I love the terrible plot lines—'Blue Hawaii' is one of the best, and it makes you realize how cute Elvis actually was. I never knew!"
Ranuncula: "Ranuncula are the prettiest flowers ever. They almost look like velvet. I am currently obsessed with putting them all over my house. They brighten up everything."