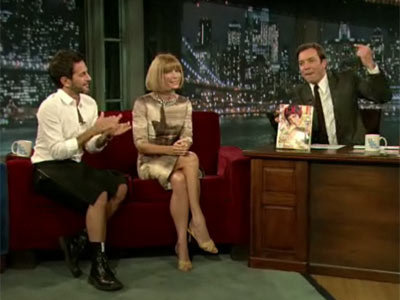 Marc Jacobs and Anna Wintour popped by Jimmy Fallon last night to promote Fashion's Night Out and the upcoming massive fashion show at Lincoln Center, but there were more than a few off-the-cuff moments to serve as a reward for those watching who had, of course, heard the FNO talking points before.
Most notably, Wintour couldn't resist aiming a zinger at Lady Gaga, who headlined the entertainment at the Vogue editor-in-chief's biggest annual party, the Costume Institute Gala at the Met, but apparently went on quite late (which, as anyone in the industry knows, is one of Anna's pet peeves). Wintour essentially told Fallon last night that the reason Gaga was on so late was that she was "communing with God backstage ... praying in the back, waiting for God to tell her that it was all right to actually go onstage." Wintour added, wrly: "Fortunately, he gave her the message after about 45 minutes."
Wintour later said of the massive show scheduled to take place at Lincoln Center tents: "My greatest nightmare is that it won't start on time," which should also serve as subtle reminder to those planning to show during fashion week that Wintour is quite keen on punctuality.
Speaking of punctuality, another chuckle-worthy moment occured later in the show, when Wintour not-so-gently steered the focus of the interview to FNO by saying to Fallon, "We really need to talk about Fashion's Night Out." Ever the true host, Fallon obliged, asking questions about the purpose of the evening and what shoppers can expect. The only moment he really got into hot water with Anna was when he asked if things would be on sale for the evening.
"No sales!" declared Ms. Wintour. "Full price." And the world of American retail said a quiet thanks.