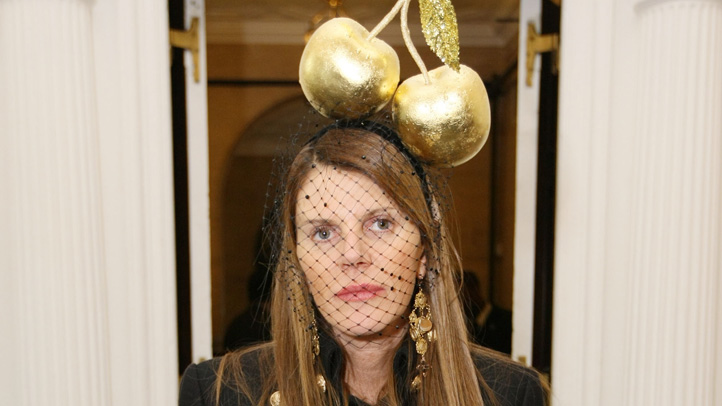 On the eve of the Toronto exhibit When Tommy Met Anna, which documents the photographer-and-muse relationship of Vogue Nippon editor-at-large Anna Dello Russo and JakAndJil photographer Tommy Ton, Style.com interviewed the duo about their unique relationship.
Having "discovered" Dello Russo in chain mesh D&G in March 2007, Tommy Ton apparently embarked on a quest to document the perpetual sartorial performance the icon puts on for the fashion world. Four years later, Dello Russo describes the relationship to Style.com as the catalyst for her globally envied, spectacular personal style: "For me, I have to please Tommy, he is my guru ... I need to surprise him! I need to seduce him! He represents the eyes of fashion."
Ton also clarifies that there's the ADR for the street cameras, and then there's the real "Anna," who actually wears Abercrombie at home:
"The funny thing is, on the last day of Paris fashion week, when I went to see her to have a last chat, she answered the door in sweatpants and a sweater, but she was still wearing heels. I was like, Anna, were you sleeping in heels? She said, 'Only for you, Tommy.'"
Which is not to say, the goal is perfection—during the Q&A, Dello Russo points out that Ton's photos sometimes, to her, highlight mistakes: "I die if I don't get the right look. The right shoes ... I can research shoes for three days shopping if I don't find what I need. We share the fashion obsession."