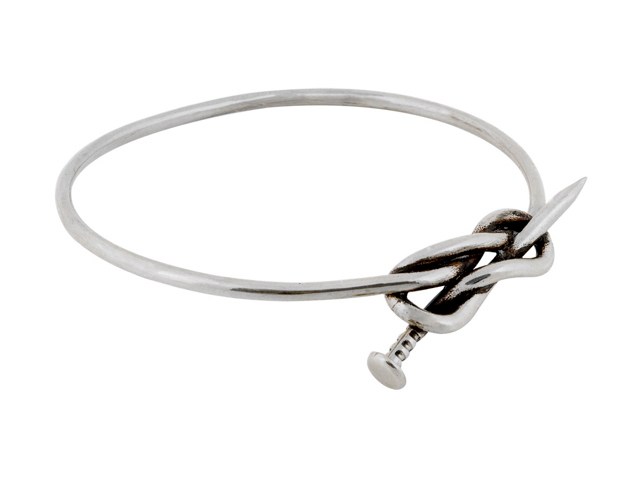 We've always had an extensive wishlist from ALC Clothing, but it's likely to double with the launch of the brand's first-ever jewelry collection, which hits Barneys and Shopbop.com later this month.
"I've long been obsessed with vintage handcuffs, locks, basically any sort of antique hardware," designer Andrea Lieberman told us. "There's such a beauty in its simplicity, and the fact that it is so utilitarian."
Viewed from a distance, the pieces have a classically elegant look, like a cobalt blue enamel bracelet with gleaming brass detailing. Up close, however, the wearer can see that each brass sphere is made to look like the head of a screw, with tiny rivets framing each piece.
"Quality and craftsmanship are incredibly important to me, so even though the A.L.C. jewelry line is classified as costume, I want the pieces to be very real in design and feeling," says Lieberman. "One way I try to attain this is by applying fine jewelry detailing into my designs, like the side screw opening of my handcuff bracelet. For me, it's those subtle details that only the owner is aware of that adds richness."
Asked how she feels the jewelry will compliment the clothing collection, Lieberman has only one objective for both: "I want to make effortless, chic, pieces that women want to live in because they are that perfect combination of modern and classic."