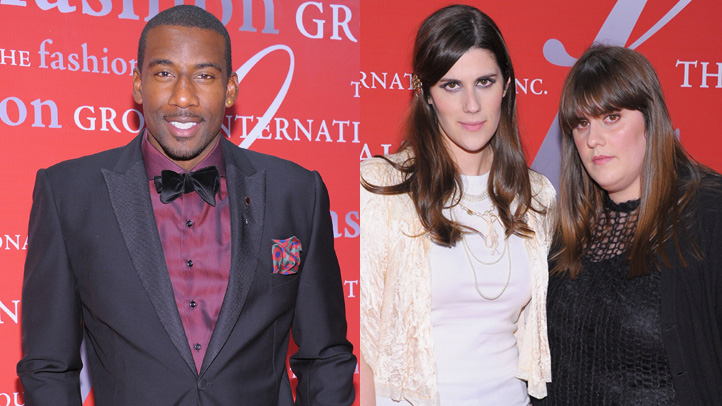 Last night the who's-who of fashion gathered at Wall Street's Cipriani for The Fashion Group International's annual Night of Stars gala. Steve Sadove and Ronald Frasch -- Saks Fifth Avenue's CEO and President -- were named Superstars. Raf Simons, Kate and Laura Mulleavy of Rodarte and Giambattista Valli were named Star Honorees. Others who picked up awards included François Nars for Beauty, Theory's CEO Andrew Rosen for Corporate Leadership, Daphne Guinness for Fashion Provocateur, Amar'e Stoudemire who received Lord & Taylor's Fashion Oracle, and Wanda Ferragamo who received the Legend Award.
New York Knicks player and part-time fashionista Amar'e Stoudemire told us he was in awe of being included with such a group. "I'm used to getting athletic awards so this is definitely different," he said laughing. "But I'm excited to add it to the collection."
Stoudemire attributes his interest in fashion to his mother. "She only wore the best," he said. "High heels, stilettos. She always had a dress on and picked out jewelry. She was just totally into fashion." Stoudemire, who said his favorite designers are Tom Ford, Calvin Klein and Ralph Lauren, developed his fashion eye early on. "I used to take scissors and cut up my jeans when I was a kid. I had a different look," he said.
"Be prepared to work hard" was the advice James Ferragamo got from his grandmother, Wanda Ferragamo, when he decided to join the business his grandfather Salvatore started in 1928. James, now Director of Women's Leather at the company, attended the gala along with other family members to accept the Legend Award on behalf of his grandmother. He told us of Wanda, who took control of Ferragamo in 1960, "She's not only my grandmother but the grandmother to my kids. She gives us lessons all of the time, lessons of life." As for her legacy he said, "For [the company] she is really a point of reference. She's taught us about determination. She's also taught us it's all about the product, the product, the product."
It was also a family affair for honorees and sisters Kate and Laura Mulleavy of Rodarte. Kate Mulleavy said it's their teamwork as sisters that has enabled much of their success. "We have a lot of talking that happens between the two of us. We like to experience a lot of things together, and those experiences usually influence our shows." She added, "Working with my sister is just the most natural thing. I can't imagine it any other way."
Giambattista Valli, with Jessica Biel in tow in one of his gowns, has enjoyed multiple successes this year, from the launch of a couture line to a Macy's collaboration. "I try to make everything that I do special and very unique, even when it's affordable," he says. "It's all about the dream that you want to share with people."