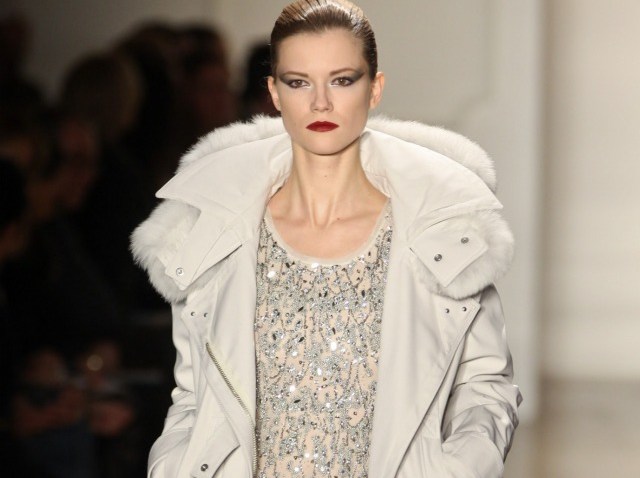 Joseph Altuzarra was clearly thinking about grunge when he created his fall 2011 collection, as well as creating clothes with more of a focus on wearability. Last season, the designer showed body-conscious dresses with cone shaped busts. This season, Altuzarra played with the idea of the parka -- in olive or mulberry -- pairing it with simple, bias cut dresses. The shoes with fur ankle straps in silver and black upped the show's glamour quotient.
The designer reached $4 million in sales last year, and clearly his focus this season is on strengthening his retail presence. To be sure, this is an accessible collection. Draped cocktail dresses with carefully worked beading also showed that Altuzarra might just have life on the red carpet (Alicia Keys seems to think so -- she sat front row).
Paul Hanlon, Lead Stylist for Frédéric Fekkai, said while the collection was "inspired by Kate [Moss] in the '90s," Hanlon and Altuzarra sough to contradict that with the beauty element by looking at "old pictures of Yves Saint Laurent and Dior, and women with super-done hair," he said. "Joseph is always sending me pictures. We talk as much as we can." The end result was an organic-looking tight bun that took three stylists working together over thirty minutes to create. The makeup by MAC was a strong plum lip and smoky eye, recalling Yves Saint Laurent shows from the '70s.
Altuzarra's line really only launched for Fall 2009; Years later, the designer seems intent to prove that he can speak to real women and their needs.