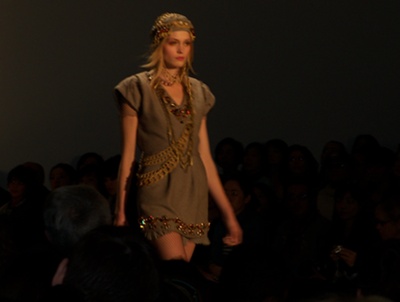 Alexandre Herchcovitch sent his shimmering creations down the runway this afternoon. Amidst the glitz, the collection managed to retain a crafty fee.
The show began in a color palette of gray and lilac, shifted to a strong red (in the form of plaid), and nded in black. The constant thread throughout was metallic. Shiny embroidery or rows of paillettes--needed or not (and, honestly, most were not) decorated the heavy coats and ruffled dresses.Otherwise, the collection felt pretty folksy; handkerchiefs worn wrapped around the head probably amped up that effect.
Our favorite pieces of the bunch were the last two looks: A-line black coats that, yes, were sparkly but seemed to benefit from the shine rather than hide behind it.