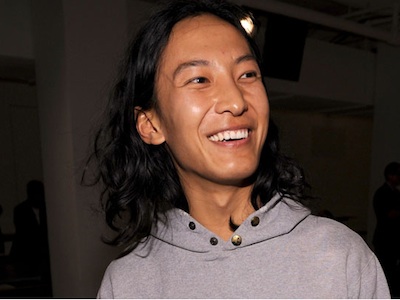 While It-designer Alexander Wang has proven his star status among the hip set in New York with his hottest-ticket-in-town fashion shows and clamored-over accessories, long-form profiles of the designer are surprisingly few and far between, so The Telegraph UK's recent interview with the young talent featured more than a few note-worthy tidbits (refreshingly) didn't have anything to do with studded leather bags or slouchy T-shirts.
Most note-worthy is the fact that -- much like wunderkind Zac Posen before him -- Wang's business is still mostly family-run. Alex is the baby and talent of the family, while his brother Dennis serves as chief principal officer. His sister-in-law Amie is the one with whom Alex really founded the business, and she still serves as CEO. It wasn't until late last year that Wang's company hired its first outsider to serve as president -- Rodrigo Bazan, formerly of Marc Jacobs International LLC -- and the Telegraph reports that the company, which the Telegraph estimates worth about $25 million (15 million pounds), is still "wholly family-owned." according to the profile. It was likely this nurturing family cocoon that actually allowed Wang to be as courageous in his career: For example, he turned down a job at Diane von Furstenberg early in his career.
Wang's close early friends have also remained a constant in his life: The designer cites his longtime friendship with Victoria Traina as an early inspiration, recounting the socialite in high school:
"[Victoria] would come into class in some designer shoes that she'd cut the ankle straps off. And I'd be like, 'Wow, you just spent however much money on those...' She treated everything in this very non-precious way."
Shielded by family, it would seem Wang really has been allowed to fluorish in a rather unpretentious way. That boyish charm that everyone seems to note upon first meeting him really may be the vestiges of still being very much the treasured baby in the family.