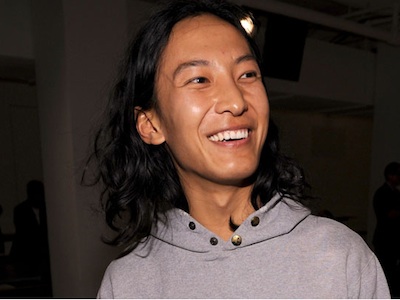 Wunderkind designer Alexander Wang first dipped his toe into the menswear market through his lower-price T collection, which -- like his womenswear collection -- has earned its fair share of acclaim. GQ named Wang its menswear designer of the year and the CFDA nominated the designer for a menswear award in the Swarovski category for rising talents.
It seems that Wang has taken the bait, and today announced he'll be debuting a small menswear collection alongside his main ready-to-wear collection for Fall 2011.
According to Style.com, the collection will feature tracksuit bottoms, wool jackets with silk tuxedo collars, and one $2,150 leather trenchcoat. As Wang told Style.com: "It started with a lot utilitarian references, something that I've always felt a close attraction to ... And the idea of mixing—I've always liked to take something very dressy and bring it down, [take] something very, very casual and elevate it."
The collection will be available at Wang's newly-opened Soho outpost, with men's accessories being added for the Spring 2012 collection.