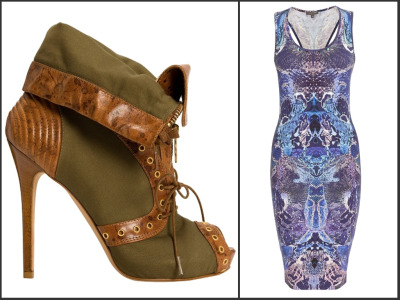 What Alexander McQueen merchandise is left from the sales boom since the designer's death in February -- Madison Avenue Spy shared the UK Times' stat that growth reached1400 percent -- is now on sale for 40 percent off.
The significant discount puts shoes in the $300-$700 range, as opposed to their typical four-figure price tags. The rad Disco Faithful Clutch with attached fingerless studded-leather glove is now $1,154 in patent whip-snake leather and $524 for the plain blue leather version. There are quite a few dresses as well, from prints to cut-out leather styles that defined the recent seasons.
There's no way the stock will last much longer, so we're planning our investments accordingly.