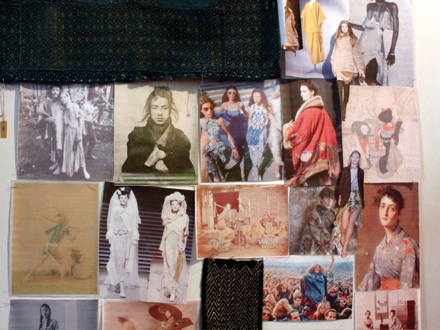 We recently visited designer Suzanne Rae at her loft-like downtown studio for a peek at what's in the works for her spring 2012 collection, set to be unveiled at Fashion Week in September.
"I guess I was feeling a little bit nostalgic this season," says Rae, pointing out a mood board crowded with rich Japanese indigo textiles and snaps of kimono silks. "It's so upsetting, everything that's going on in Japan right now. I was just craving a simpler time."
Of course, "simple" for Rae has nothing to do with "minimal." After inspecting her mood boards, the designer guided us through a rack of lush spring samples rendered in a somber palette of navy, cream, and soft peach.
"I was looking a lot at images of 19th century Japan," she explains, and immediately the connection is apparent in the billowing kimono sleeves and sophisticated wrap silhouettes.
Long marked for her unusual prints and patterns, Rae created reproductions of actual Japanese fabrics for spring -- including a particularly eye-catching zig-zagging Chevron in white and navy -- as well as an unusual digital print made in collaboration with photographer Renato D'Agostin.
Rae's first-ever swimsuits sweeten the collection with a sweet bandeau bikini (rendered in the designer's reproduced Japanese fabric) and a terry cloth body suit with a plunging halter. Devotees of her sweeping asymmetrical dresses ("People call them 'mullet dresses,' but that's just so gross," Rae laughs) won't be disappointed with its newest incarnation in raw ivory silk with dainty covered buttons.
"I always want the clothes to be easy and comfortable, but with something interesting happening, something thought-provoking."