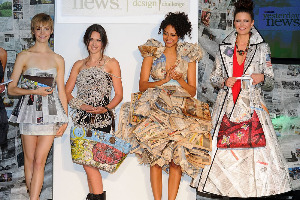 In a design challenge fitting for Project Runway, four eco-savvy designers put their individual style aesthetics and green know-how to the test as each twisted, layered, tiered, and dyed old newspapers into garments for Yesterday's News Green Catwalk soiree.
The event featured eco-design mini workshops presented by local green enthusiasts, including Kate McGregor of Kaight, as well as the main event: a runway presentation showcasing the newspaper creations. Samantha Pleet who recently showcased her Spring 2011 collection as part of the Green Shows this year, turned out a sassy peplum-skirt cocktail dress, while Lara Miller's over-the-top ball ballgown was a tea-stained confection that rustled with each step. Bahar Shahpar spun actual yarn out of newspaper to create a crocheted top, while Anthony Lilore of RESTORE's trench coat looked durable enough to stand up against the elements (not to mention stand up on its own—no coat rack necessary!).
The garments will be auctioned off of Yesterday's News' website, today through September 29, with proceeds going towards a green charity of each designer's choice. Though we're not entirely sure about the long-run wearability of the designs—Lilore's seemed the most likely to hold up, thanks to a good layer or two of shellacking—the skill and handiwork that went into each garment is not only impressive, but more importantly, it sends a clear message about sustainability and potential of the materials around us. A little resourcefulness and ingenuity can go a long way.
That said, perhaps the New York Times should change its slogan from "All the news that's fit to print," to "All the news that's fit to wear."