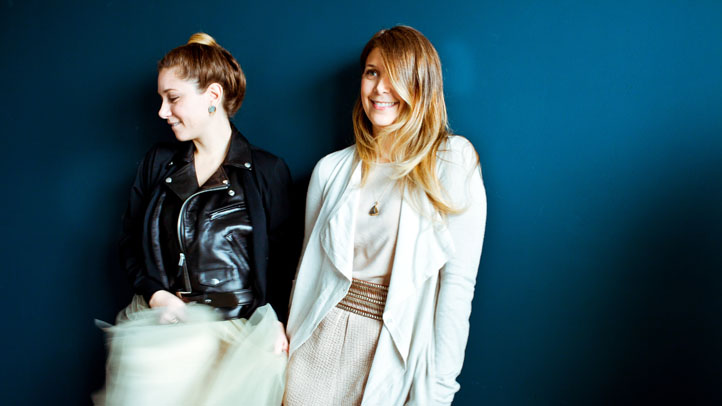 Sisters Kim and Nicole Carosella decided they wanted to launch a fine jewelry brand together after Nicole started taking jewelry design classes at the Fashion Institute of Technology several years ago. Kim was simultaneously bitten with the entrepreneurial bug.
"It's funny, Nicole has always been the artist, even as a little girl, and I have always been the overseer of operations," Kim says.
Sorellina was born in early 2011 and includes pieces like sapphire petal earrings with 18K yellow gold detailing and diamond serpente earrings set in oxidized silver.
The label's first samples had a family connection. "Our mother went through her old jewelry and she gave us interesting pieces from the '80s." Nicole says. "We pulled out the diamonds, repurposed the gold."
The sisters hope to fuse fine jewelry craftsmanship, made-in-the-U.S. heritage and sustainability.
"We had this great clear vision from the beginning. We knew our storyline," says Kim. "We want to create pieces that are vintage-inspired, but modern. We don't want to have our production overseas like so many people."
About 80 percent of the line is made in New York City, while the rest is created in Philadelphia.
"The most challenging part of launching this business has been finding manufacturers that are the right fit," Kim says. "It's a project-by-project evaluation."
The sisters live and work in the same building in Williamsburg, Brooklyn.
"We walk our dogs, have coffee, then I go sketch like crazy while Kim does things with spreadsheets in the office that I don't understand," Nicole says of her day-to-day. "I might sculpt a piece one day or go to Philadelphia to check in with a manufacturer another day, or go pick out stones or go on a inspiration walk on the High Line or to a museum," she says.
So far the sisters have launched the collection with a trunk show for friends and family. "It was really interesting because certain pieces appealed just as much to fashion forward twentysomethings as they did to older women," Kim says.
For now the jewelry, which ranges from $2,000 to $75,000, is available only via special order, but the pair is already dreaming of owning a store one day to show off their wares. "We would love to open a Sorellina storefront and create this magical environment an a destination shop," Kim says of her future plans for the brand.
As for the best part of getting this line off the ground, Nicole shares, "I get to play with diamonds all day and be with my sister. What could be better?"
Related Stories:
Gears, Machinery and Math Inspire Brooklyn-Based WXYZ's Jewelry
One to Watch: Bande des Quatres