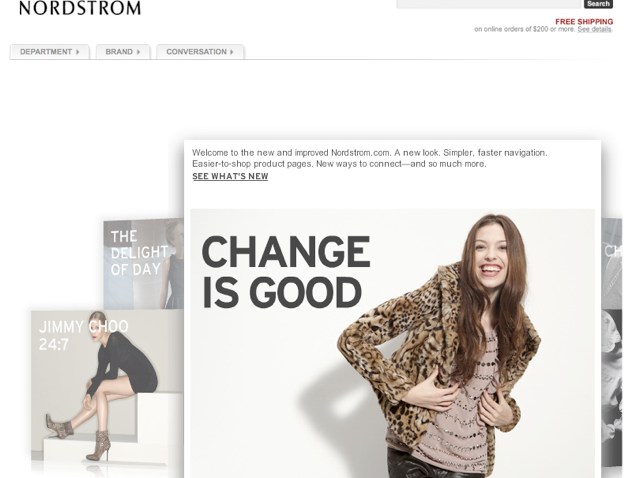 E-commerce is all about instant gratification. If a customer shopping online really, really wants a camel peacoat, chances are she'll find it pretty darn fast with some deft Googling. If the first site doesn't have it, then on to the next, and the next, if need be.
But while that first store might actually have said peacoat—not in its web warehouse, but in one of its many brick and mortar locations—you might never know. The fact is, many retail companies run their e-tail sites and brick and mortar businesses as separate entities. This means when you search for an item, the company's e-commerce shop has no idea that its real world shops have plenty in stock, thus risking potential sales.
Nordstrom recently wised up, and it's affecting its bottom line for the better. The company's brick and mortar and web inventories are now accessible from a single database, meaning web customers can snag goods up from an actual salesfloor, while salespeople in the stores can easily locate items for customers through a simple computer search.
Since last September, when Nordstrom melded their online and real world inventories, sales at stores open over a year, have outperformed the department store average. Because the company isn't losing as many web sales to other online outlets (with 115 stores, chances are pretty good the item you want is at a Nordstrom somewhere) overall inventory is moving more quickly, and often at higher prices.
Jamie Nordstrom, president of Nordstrom Direct, explained to the New York Times, "If we're out of something on the Web site, it's probably late in the season and the stores are trying to clear it out," he said. "By pulling merchandise from the store, you've now dramatically lessened the likelihood that you'll take a markdown."

Nordstrom's website includes other features not always found on other major retailers' sites. The first thing the company added when it began refining its online strategy two years ago was the ability for a shopper to locate, and even buy an item she spotted online at a nearby store, should she want to try it on before making the purchase and paying for shipping. It's the best of both worlds, really.