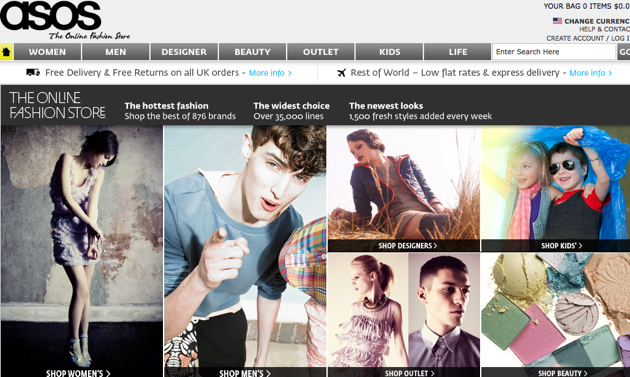 Trendy British retailer ASOS, which expanded its e-tailing to the U.S. last month saw pre-tax profits soar 44% last year despite the recession, a move which helped to more than double the company's international sales in the first nine weeks of this fiscal year.

Chief executive Nick Robertson declares, "That's the beauty of the internet model. Today we shipped to 167 countries," Sky News reports.
Now, with the site's new addition of free shipping and free returns, the number of global shoppers will surely continue to rise. The company certainly expects big business, having just signed a lease on a "mega" warehouse that has the capacity to handle annual sales more than four times its current turnover.
Robertson also credits the appeal of British fashion to ASOS's popularity. Brands are categorized by type, including "High Street." With its 36,000 products available for sale (up from 22,000 last year), with 1,500 new ones added each week, there are plenty of labels and looks to love.
Finally, ASOS really gets the whole web thing. A whole section of its site is devoted to its fans, with blogs, user groups, and such. They're even planning to launch an eBay-style "marketplace" that will let shoppers sell their own stuff, as well as serve as an online outlet for small boutiques and designers. As if we weren't addicted enough already.