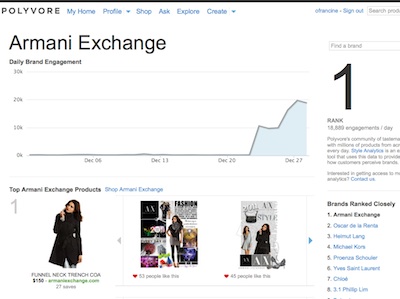 Polyvore has just unveiled Style Analytics in beta, which the founder describes on the company blog as "an experimental tool that uses Polyvore data to provide insights into how customers perceive brands."
The tool ranks the top 100 brands on the site, highlighting the "movers and shakers" who have advanced in popularity over the course of the week. The numbers are all based on "engagements" per day, and engagements means anything from clipping, liking, saving and using an item in one's set.
Polyvore at its most basic form is a playful online pastime, allowing users to clip and paste photos of products (mostly fashion-based) from all over the web, as well as its own extensive database, to create any variety of artful inspiration boards and outfits. With each item linked back to its original e-shop, the site also offers retailers a glimpse into what's being "used", and how it's being perceived in the site's more-than-one-million sets per month. With the new Style Analytics tool, brands can see clearly just how they're stacking up, and against which other brands users are comparing them.
For example, the British brand Reiss sits atop the Movers & Shakers list at the moment, jumping more than 50 spots in recent weeks, which likely something to do with Kate Middleton, who donned a Reiss dress in her Testino-shot engagement photos to a certain prince. The top overall brand at the moment is Armani Exchange, whose spike on Polyvore coincides pretty closely with the date it posted a Polyvore contest on its Facebook page, pointing out the inexorable link among various channels of social media. What makes the measurements interesting is their seeming randomness -- Azzedine Alaia, for example, was situated just two spots above a brand called Planet (whatever that means) when we tinkered with the tool. Also currently in the top 10 are Michael Kors, Proenza Schouler (all PS1 bags), and ALC (striped tees and leather jackets).
The tool is still quite new, and it remains to be seen how retailers will engage with it in any meaningful way. To be sure, Polyvore is the tool of preference for most fashion-savvy folks, which does make its insights more valuable to any brand catering to that community, but it also isn't necessarily a valuable tracker of what said users are actually buying, but rather, what intrigues them.