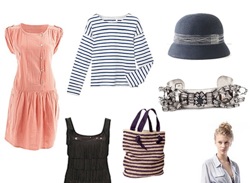 As is stepping off the ferry and taking in the bucolic landscape of Governor's Island didn't feel like enough of a time warp, this weekend's annual Jazz Age Lawn Party will really set you reeling.
There's no obligation to dress up for the 20s-inspired picnic event, complete with a live jazz band and plenty of swing enthusiasts doing the Charleston, but it certainly does make for one crackerjack photo op.
Don't worry if you don't happen to have a flapper dress hanging in your closet. Styling yourself for the event can actually be a pretty simple (and relatively inexpensive) task, considering the timelessness of the jazz era's many swingin' styles. Simple drop-waist dresses are easy finds, as are striped and pleated items (in the form of skirts, trousers and shorts), both of which were major trends back in the day. You know what they say: What goes around, comes around...
Here are some everyday finds that you can sport at the picnic—and any other time this summer. Hot dawg!
1. Sessun Snap Dress at Steven Alan (on sale for $130)
2. Petit Bateau Sailor Striped Cotton Top ($88)

3. Anthropologie Side-Stepping Cloche ($34)
4. Dannijo "Hadley" Bracelet ($320)

5. Gap Striped Tote Bag ($20)
6. Tap Shorts at Urban Outfitters ($48)

7. American Apparel Spectator T-Strap ($80)

8. Pearl River Mart Hand Painted Silk Parasol ($40)

9. American Apparel Cotton Seersucker Bloomer ($25)
10. Forever 21 Fringed Flapper Dress (on sale for $15)