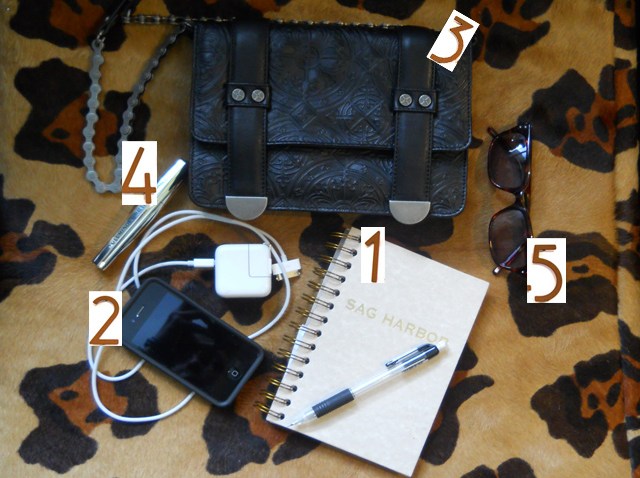 We generally associate Nicole Miller with the lush eveningwear creations which held us in good stead through many a stressful school-related shopping trip, as teenagers tolling the racks at our local suburban mall.
But we didn't realize that Miller had begun making sidewalk-perfect satchels and accessories in addition to her eveningwear staples. Her favorite, the "bike chain bag," neatly fits all her daily essentials. Practical business woman that she is, Miller stashes the basics (iPhone charger, notepad) along with some personal must-haves like perfectly-oversized sunnies and a tube of jet black mascara.

1. Notepad and pencil: "This is my favorite z-grip pencil. It's great for sketching. Also I love these Sag Harbour notepads for last minute ideas and sketches!"

2. iPhone + Charger: "I take tons of pictures with my iPhone and use it to stay on top of emails."

3. Bike Chain Bag: "I am obsessed with this bag – I carry it all the time."

4. Mascara: "I first got this mascara at a Hollywood Reporter party during the Oscars. My friend Heather Graham and I both got some. Its now my favorite."

5. Sunglasses: "These are my prescription sunglasses that are off my line – I wear them all the time!"