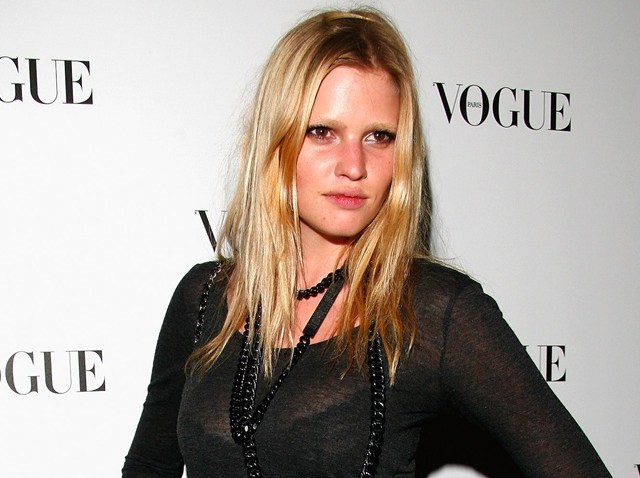 So beautiful, so young, and so lucky to wear those clothes! Here are 2009's best catwalkers.
5. Jacquelyn Jablonski: For those of us who scrolled through Style.com's runway galleries during the spring '10 season, you probably remember a mysterious "Jac" popping up at the New York's biggest shows. She closed Alexander Wang and opened AND closed Calvin Klein. Needless to say, after we saw her Calvin Klein collection campaign, we understood her one-name worthiness.
4. Bregje Heinen: In her debut season this September, Heinen hit the catwalk for Prada, Fendi, Stella McCartney, among others. With a quick glance at the pouty, blue-eyed beauty, it's so easy to see why. Our favorite newcomer, she looks expensive, and one day soon we're betting her fee will be too.
3. Chanel Iman: Being named a Victoria's Secret "Angel" basically means you're the prettiest girl out of the world's prettiest girls. And this year, Iman snagged the lucrative title. But it's her high fashion success combined with this more commercial work that earns her a spot on this list. She scored an exclusive at this summer's Dior couture show--pretty huge. And this fall, Iman strutted on some usually white-washed catwalks like Balenciaga and Louis Vuitton.
2. Abbey Lee Kershaw: You know you've done well when you can turn down Alexander McQueen, which is exactly what this spunky Aussie girl did after seeing those unreal shoes from his spring '10 show. Only someone with Kershaw's cool girl vibe (a mix of beachy/bohemian personality, perfectly undone hair, and, um, that insane body), could swing it. And swing it, she did. Kershaw ends the year with sexy editorials in Purple, Italian Vogue, and i-D. Not too shabby, Abbey.
1. Lara Stone: Hilariously considered "curvy" at a mere size 4, this Dutch beauty lent her jaw-dropping figure and unforgettable face to most major runways, glossies, and ad campaigns this year. She kicked off 2009 with a huge triumph: closing the Marc Jacobs show in February. As the months rolled on, she continued to dominate Paris Vogue and was finally crowned "Girl of the Year" by December's British Vogue. Not to say that her year was exactly role model-worthy--a stint in rehab for alcoholism, that infamous blackface spread, a threesome at the Chanel show...But Disney virtue isn't what we look for in our models anyway!