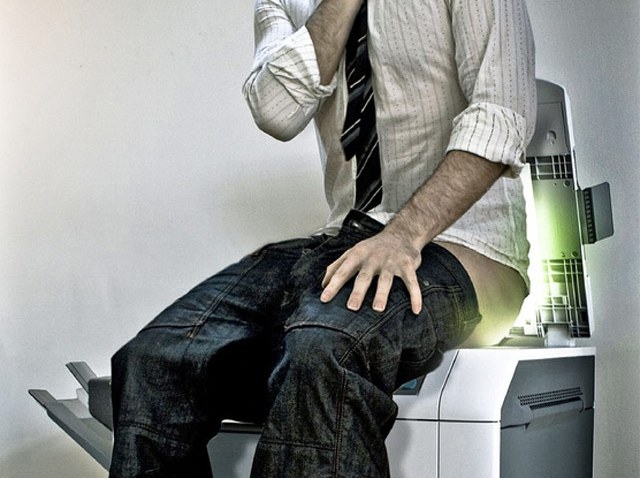 Office parties, like awards shows and American Idol, are some of the best entertainment around – because anything can happen.
But unlike at your office party, at Wednesday night's corporate shindig for the Home Base Supply Co., not only will you not get a "note" in your "file" if you act inappropriately, you're actually encouraged to do so. That's because the fictional company is the matchmaking brainchild of Brooklyn Based and FIPS, who are organizing the BK Meatup Naughty Office Holiday Party to help you get your stocking stuffed. Your chestnuts roasted. In other words, provide single types with some holiday action or long-lasting lurve. Some highlights of what awaits:
- Free (and free-flowing) Chivas scotch from 7-8PM
- Shootbooth portraits with hot Santas (hot farmers Michael Grady Robertson of Queens County Farm, Annie Novak and Ben Flanner of Rooftop Farms, plus hot Meat Hook butcher, Ben Turley)
- Free massages
- Asiadogs to absorb some of that Chivas
- A DJ who only goes by the name Jonny Con Carne
- Best Week Ever's Sara Schaefer ss your Angela/Phyllis for the evening, MCing the proceedings, including the Hottest Employee of the Year contest (which we already mentioned you could enter by faxing in racy photocopies of yourself)
So don't wait for the straightlaced office manager to get tipsy and inappropriate and your real office party – make it happen at the Meatup.
Details
FIPS and Brooklyn Based Present the Bk Meatup Naughty Holiday Office Party
Wednesday, December 9, 7-11PM
The Bell House,149 7th Street, Gowanus, Brooklyn; 718-643-6510
$10 in advance, $15 at the door
More information and tickets at brooklynbased.net
Copyright FREEL - NBC Local Media