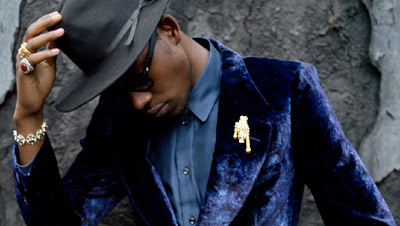 The name Theophilus London may be a mouthful, but we might have to get used to saying it. Especially since his own first single repeats it over and over.
The Trinidad-born, Brooklyn-raised hip-hop artist's debut album Timez Are Weird These Days is out July 19, featuring material born of collaborations in Stockholm, NYC and LA with a not-shabby roster of producers: Ariel Rechstshaid (Foreign Born, MURS, Glasser), Jokke of The Teddybears, Dave Sitek of TV on the Radio and John Hill (Santigold), who is responsible for the song "Last Name London," recently unleashed on the internets (and hearable here). He's also worked with Mark Ronson and Ellie Goulding--not bad for a guy who made his first mixtape public in 2008.
As buzz builds -- and London prepares to take NYC with two shows, at Brooklyn Museum on June 10 and the Music Hall of Williamsburg on June 19 -- he answers our questionnaire.
Name:Theophilus London
Age: 24
Lives in: New York City
Occupation: Songwriter

First real job?
Working at Calvin Klein. It sucked.

First record you ever bought?
With my own money? Cam'ron, Confessions of Fire.

If you ever get arrested, it'll be for...
Throwing water balloons.

What time do you wake up?
9 or 11AM. Either or.

Top three songs in your iPod rotation?
"Hypnotize U," Nerd
"Bring Me Down," Kanye and Brandy
"Last Name London," me

What do you splurge on?
Elderly women's vintage gold jewelry. And hats.

To when do you point your time machine?
200 B.C.

Complete this sentence: In a previous life, I was a lousy photographer.

Best meal you've ever had in NYC?
Lil' Frankie's rigatoni with meatballs is one of 'em.

First childhood memory?
Listening to Michael Jackson's Bad on cassette.

What's your pre-show ritual?
Quiet. Only 3 people at most can be present.

Do you Google yourself?
No. Google alerts do that.

What's the most memorable thing you've ever read about yourself on the internet?
That I kiss animals. Which I do.

What's your drink?
Don't have one.

What's your greatest skill in the kitchen?
Boiling water.

Your favorite thing about yourself?
Haven't figured that out yet.

Best piece of advice you've ever received?
Shut up.

What's the loftiest goal you've yet to accomplish?
Selling a million records.

Fill in the blank: I'll know I've really made it when __________.
my dog disowns me.
Tweet your obit (140 characters or less):
CANNES I KICK IT?