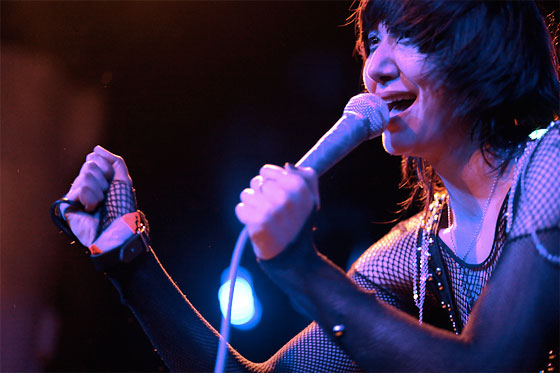 In town for appearances on Saturday Night Live, Letterman, and Jimmy Fallon to promote their terrific, club-ready new album, It's Blitz!, the Yeah Yeah Yeahs played an unannounced show Sunday night at Santo's Party House to friends, family, and the lucky few who got wind of the performance and braved the windy weather, standing in line outside the little club for hours.
Karen O appeared in an outsize sort of kimono, stroking the mike like Tina Turner, before stripping down to a tiny dress. Nick Zinner's board of guitar effects has grown to resemble something on the SciFi Channel; his set list detailing his effect changes was so complex, it looked like a map of the human genome.
The band has grown, too, to include Slint's David Pajo on synthesizers, acoustic guitar and -- yes -- bass. Although they've essentially transformed themselves into a dance act with It's Blitz! -- and the set wasn't as chaotic as their early, alcohol-driven shows -- the Yeahs' set showcased their entire career, and Zinner's snarling guitar, quieted on the new album, Sunday night added heft to the newer, synth-heavy tracks.
While O vamped and careened around the stage, Zinner rocked out -- which for him means just swinging his well-worn Stratocaster back and forth as if he were watering the lawn. The band churned out a dead-on version of "Human Fly," a tribute to fallen Cramps front man Lux Interior; for their encore, they took requests called out by sweaty, delighted fans.
The spacious arrangements and the move away from crashing-riff rock marks a new direction for the Yeah Yeah Yeahs, but they have it down cold.
Related: Blitzkrieg Bop [NYM]
Copyright VULTR - NY Mag