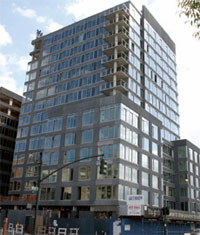 In its October issue, The Real Deal has a look at Truffles Tribeca, which—when it's all said and done—could very well be the building that finally got us committed. Curious marketing and 18th Century opium beds aside, the intel is still a little spotty on this 291-unit luxury rental complex on the western end of North Tribeca (actually made up of two buildings), but the blanks are slowly getting filled in. We know the rental office will open in January, and now thanks to TRD, we know that the studios and one-bedroom units will be priced from $2,500 to $6,000. As for the three-bedroom units, we're afraid to find out. In addition to a sweet bridge on the 11th floor that will connect the 22-story and 14-story buildings, Big Truff will sport "a gym, screening room, bar, game room, valet, library, outdoor garden areas, and a roof garden." There will also be retail on the Washington Street side of the property formerly known as the Jack Parker Site. This should be an interesting test for Downtown. A new luxury rental building in Tribeca is indeed a novelty, but can it get those prices come '09?
· Hunting for Truffles [Real Deal]
· Jack Parker Site coverage [Curbed]For more stories from Curbed, go to curbed.com.
Copyright CURBD