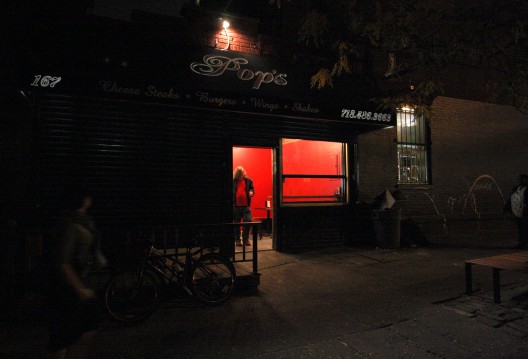 1) Williamsburg: Our roving photographer has some shots of the soon to open Pop's in the old Kitchen Delight space on north 6th Street in BBurg: "The funny thing is that the menu looks pretty similar. That said, the food at Kitchen Delight was never as good as I wanted it to be, even for cheap junky burgers. And toward the end it started to feel a little dirty and neglected. Inside Pop's it looks like they redid the kitchen a little and the whole place smells like fresh urithane. The woman at the counter told me they weren't open yet and they will have take-out menus on Friday." [PLYWOOD]
2) Times Square: We also have a mystery space going into the corner of 8th Avenue and 46th St. They're putting new floors in now, so there could be a lot of work that still needs to be done. Any info, send it in. [PLYWOOD]
3) Midtown East: A midtown worker grabs a shot of the newest Crumbs, going in on 52nd and Madison.
4) Park Slope: Our Park Slope correspondent, with some new plywood news from the old Cafe Eleven space: "On my way to work this morning I grabbed a shot of the interior of the wine bar opening soon in park slope - owned by the guy behind Big Nose Full Body. You can get a sense of what they're going for. Their intention was to open by the
2nd week of October, but I think it's going to take a bit longer than that." [PLYWOOD]
5) Fort Greene: The Clinton Hill blog notices a new restaurant going into 247 DeKalb. According to the report, they obtained a liquor license in August. [PLYWOOD]For more stories from Eater, go to eater.com.
Copyright EATER