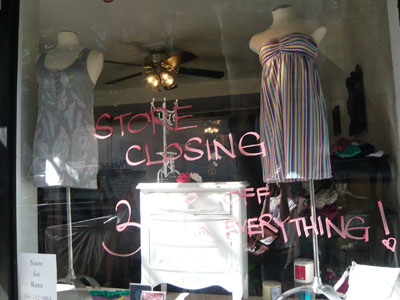 From dress shops to magazines, our heart was broken again and again this year. Here, an homage to our favorites.
The little Houston Street jewel box closed its doors this August with a massive shoe sale, but its uniquely vintage-cozy ambience and calendar of artsy events is no longer. However, the online shop remains.
4. Lovesong 422
It's a cruel world that can't support an independent boutique featuring local designers and planting a tree with every purchase. One of Ninth Street's best bit the dust this summer, and we're still not over it.
3. Gominyc
One of the city's original organic boutiques closed its East Village shop this summer, just a few months after its sixth anniversary. Owner Anne Bernstein designs jewelry and clothing under her maiden name, Anne Hettinger, so we're looking on the bright side and hoping she'll pop back up again soon.
2. Yves Saint Laurent, Madison Ave
Despite record-smashing sales at the estate auction of the late designer, his Madison Avenue location shuttered this year after 41 years. The brand remains alive, however, with NYC operations consolidating in the 57th Street store.
1. Phi
The little label with a fierce fashion cult following, founded by Susan Dell, wife of Dell Computers founder Michael Dell, announced that pre-Spring 2010 would be its last collection and the Greene Street shop would close. The industry lost a truly priceless gem, but who knows what the future may bring?