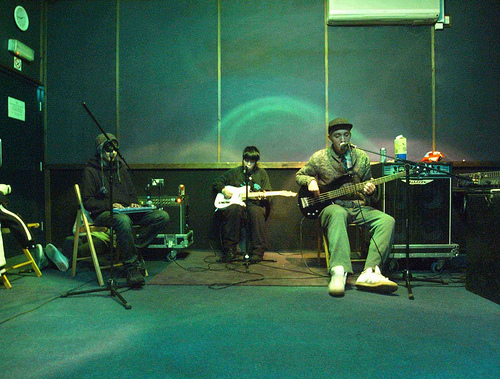 On Monday, the British band The xx played Snug Harbor on Staten Island. Not classically as much of a hub of indie music as the Lower East Side, Brooklyn or even Long Island City, Staten's musical legacy is instead one rooted in hip-hop -- consider the Wu-Tang Clan, who to this day rep Staten as if their lives depended on it. Yet there's something enchanting about a concert in an area that's theoretically close to you, but actually kind of hard to get to because it's on Staten Island. The concert, which was announced Thursday as a fan club-only affair, sold the relatively scant 686 tickets within minutes of going on sale to the general public.
The band, consisting of Romy Croft on guitar, Oliver Sim on bass and Jamie Smith on MPC (live, it looks like he's playing the drums with his fingers) has become an unlikely success story. Their sound is equally influenced by clean, emotive pop-rock such as the Smiths, plaintive British electronic music such as Boxcutter and Burial, and the quiet storm of American Pop R&B like Maxwell and Aaliyah, whose "Hot Like Fire" they have covered in the past. It's not one particularly suited to big rooms. Yet their debut album, simply entitled xx, was such a huge hit that they were forced to take their intimate sound to the masses, taking the main stage at festivals as well as headlining large concert halls such as the cavernous Terminal 5, where they played last week. Live, they seem just as unassuming and low-key as they did playing the small venues where they cut their teeth.
New material from their upcoming second record Coexist -- such as the swirling, lush "Angels" and "Chained" -- sounds slightly more full-bodied and fleshed out, better suited to cavernous halls and hand-waving singalongs than their previous work. It's a testament to a band's ability to stick to its signature sound while growing with its audience. They do this while sacrificing nothing; "Chained" is exactly the sort of song they should be making right now. Featuring a lush, atmospheric backdrop fueled equally by Croft's ambient guitar lines and Smith's woozing samples, the key lyric here is, "We used to be closer than this." The line isn't referring to the distance between the band and its audience, but it feels nicely allegorical.