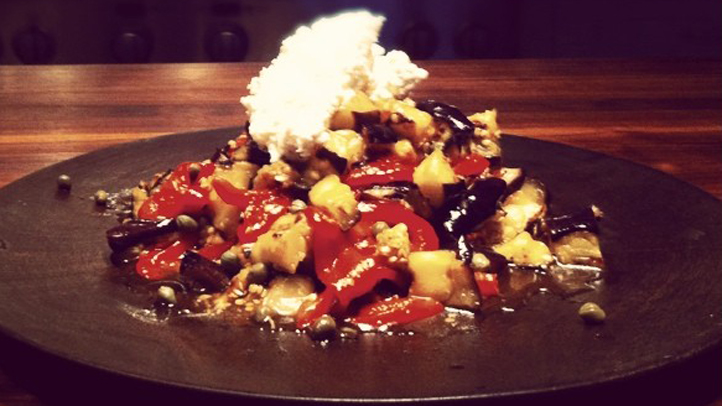 Have you ever had a song in your head that won't go away? You're not sure where it came from and try as you might to think of a different tune, that one melody is on repeat in your brain, creating a soundtrack to moments grand and mundane alike.

Regardless of the fact that I've been humming Dreamweaver since Saturday, I often experience a similar phenomenon with food. For weeks now, I'd been thinking about roasted red peppers and -- and -- and what? I wasn't sure. But I couldn't ditch the thought of the sweet, tangy, slimy peppers and how they'd be a nice side to the heavier grilled meats that I knew would be around on this holiday weekend. When a family member brought home a huge farmer's market eggplant, the marriage of the two vegetables was formed and I got to work in the kitchen.

I suppose this dish may have been the influence of my surrounding company. For much of the weekend I spent time with two engaged couples in the late stages of wedding planning. The brides, both calm and organized but dramatically different from each other, have each found their counterpart in energetic and gallant (well, gallant-ish by tech-age standards) men who are also incredibly different from each other. Individually, they make fabulous duos. Surprisingly, they also mix very well all together. The entire experience was complimentary and relaxed, the pairs were the simple dish on the table that everyone keeps reaching towards for seconds because it really is that good.

Another reason that I passionately pursue roasted red peppers is that making them is so much fun. Remove the grate from your stovetop, turn the flame to medium high and place the peppers directly on top. Using tongs, rotate the pepper as it becomes charred all the way around and then toss in a bowl and cover with a lid or foil. After about 10 to 20 minutes, the steam created in the bowl will allow the char to easily wipe off, leaving the smooth layer below the pepper's skin. I let the peppers sit in garlic, salt and some red wine vinegar for a few hours to create a quick pickling effect but it was not an essential step (but I really wanted to say I was making pickled peppers anytime someone asked).

While the peppers sat, I sliced the eggplant into discs and grilled it until just tender. If you don't have access to a grill, roasting the eggplant would be a nice option as well. When finished and cooled, I diced the eggplant, tossed it with the peppers and topped it with a bit of goat cheese.

The red bell peppers used in this recipe are good sources of vitamins A, C and K. They are antioxidant rich and also offer a good amount of fiber. Eggplants are also decent sources of vitamin A and C, as well as folic acid and fiber. This particular recipe used only extra virgin olive oil and red wine vinegar and none of the sugary sauces or dressings that are often paired with these vegetables.

This dish is best served at room temperature. Share it with another wonderful pair.
---
Roasted Red Peppers with Grilled Eggplant and Goat Cheese
Ingredients
2 Red Bell Peppers
1 Large Eggplant
1 TBSP Capers, Rinsed and Drained
2 TBSP Extra-Virgin Olive Oil
¼ cup Red Wine Vinegar
2 oz goat cheese
1 clove garlic, minced
salt and pepper

Directions
Slice eggplant into rounds and salt on either side. Let drain for a few hours, rinse well and pat dry.

Remove the grate from your stove, turn the heat to medium-high and place the pepper in direct contact with the flame. Using tongs, rotate pepper until it is completely charred. Place in a large bowl and cover with a lid or foil for 10-20 minutes.

Uncover bowl and wipe blackend skin off peppers. Remove stem and seed pod and slice into ¼ inch strips. Rinse out bowl, add peppers, minced garlic, vinegar and salt. Cover and allow to sit for an hour or overnight.

Meanwhile, brush eggplant with olive oil and sprinkle evenly with salt and pepper. Heat a grill to high and cook eggplant until tender but not mushy. Let cool and cut into ½ inch dice.

Toss eggplant with peppers and arrange on a serving plate. Top with capers and goat cheese.


Mallory Stuchin, a native Manhattanite, is a freelance food and health writer. She studied Ashtanga Yoga in Mysore, India and has taught classes at PURE Yoga and New York University. She is also a Natural Foods Chef and has worked for Mario Batali. Her writing has previously been featured in The New York Observer, Glamour and Maxim, as well as other publications in New York and Los Angeles. You can follow her on Twitter @malstuch.