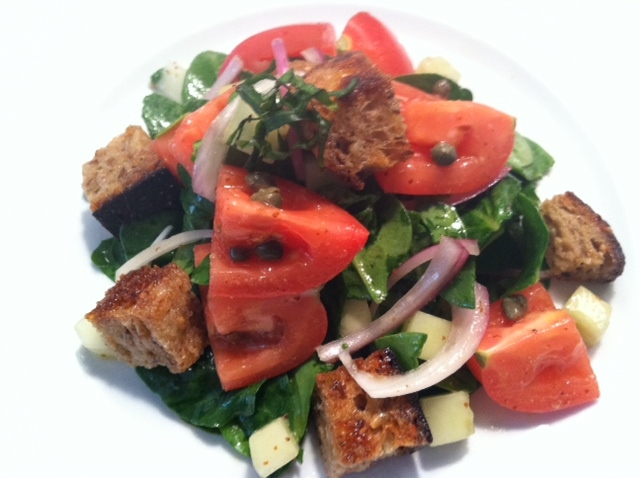 Something crazy happened on Saturday.

Finally, after what felt like hundreds of cool, damp days and regular afternoon storms, the sun triumphantly emerged, and it was spring. (It was about time; I'd begun gathering the animals in twos.) With a still-wet umbrella resting outside my door, I practically flung myself outside and on to the nearest rooftop to soak it all up.

But first, I had to make some food.

After an entire minute spent scanning my kitchen (which was a generous amount of time considering it's the size of a stock pot), inspiration hit when my eyes landed on a crusty loaf of bread with few moments of life left in it. To be clear, this was not soft, sandwich-intended, chew-with-abandon bread. No this was stale, hurts-your-jaw, can-I-or-can't-I-still-eat-this bread, and it was suddenly screaming from my countertop to be coated in olive oil and garlic and made into panzanella, a bread salad.

In its most traditional form, panzanella is composed of water-soaked stale bread, tomatoes, onions and basil. However, I often interpret this traditional model as the framework to use up all of my almost expired (or recently grilled, sautéed, steamed or roasted) produce. The whole event of making this meal is so simple -- soak or toast bread, add it to your vegetables, dress, done -- and an excellent opportunity to breathe life back into leftovers that might otherwise get tossed.

While we all know that bread gets a bad rap sometimes, for this dish, the proportions can be adjusted as you see fit. A non-traditional panzanella is also an ideal locale to drop in some of those leafy greens (like kale or spinach) that you've been meaning to eat more regularly. Additionally, if you are concerned that your bread isn't quite old enough to be used, fear not. Simply toast it a bit longer in the oven until it gets sufficiently brown.

Panzanella, unlike many other salads that are best when dressed moments before being wolfed down, needs time for the bread to moisten and the flavors to meld. Let these tastes tell a story by making the dish before preparing anything else for your table. After at least 30 minutes of resting time, it will be ready to eat. Whether you follow a very traditional version of this recipe or invent your own rendition of it, panzanella is the ideal "not exactly sure what time lunch is and this will be sitting around for most of the afternoon" meal.

PANZANELLA
Serves 6

It is essential that the ingredients in this salad have time to rest after being composed. Make it and forget about it for a little while. When you come back, it will be a new story entirely.

Ingredients

3 cups (about half a loaf) crusty bread
2 large tomatoes, chopped
1 red onion, thinly sliced
1 hothouse cucumber, peeled, seeded and chopped
½ pound (or one large bunch) spinach, washed and spun dry
1 TBSP capers, rinsed
1 Handful of basil leaves, thinly sliced
¼ cup + 1 TBSP Extra Virgin Olive Oil
1 ½ TBSP Sherry Vinegar
½ tsp Dijon Mustard
Salt and Pepper to taste

Directions
Preheat the oven to 375 degrees. Cut the bread into ½-inch cubes, removing the crusts if you so choose. In a large bowl, combine bread with 1 tbsp. olive oil, salt and pepper and toss to coat. Arrange cubed bread on a baking sheet and cook until lightly toasted, shaking the pan occasionally, about 10 minutes.

Whisk olive oil, sherry vinegar and Dijon mustard together in a bowl. Taste and add salt and pepper accordingly.

Combine tomatoes, onion, cucumber, and capers with cubed bread. Toss with dressing and allow 30 minutes resting time. Top with basil before serving.


Mallory Stuchin is a Natural Foods Chef and a Vegetable Butcher at Eataly. She also studied Ashtanga Yoga in Mysore, India and has taught classes at PURE Yoga and New York University.