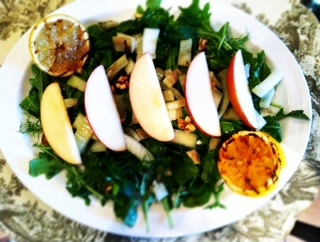 So, how was your weekend?

In all seriousness, I hope that your home -- wherever that may be -- was not too badly damaged, that your power has been restored and that you are finding your way back to normalcy.

I also hope that you've gotten over your food hangover. Yes, New Yorkers, I'm talking to you.

While last week's weird weather affected us all in different ways, it seems like everyone I spoke with shared one thing in common; we ate a LOT of food. I was so full that most of Monday (and Tuesday) was marred by that tired, queasy, slow-on-the-uptake feeling that I immediately associate with alcohol and text messages I don't remember sending.

What I've learned is that food hangovers are really their own beast all together. Because we have to eat. And because once that proverbial potato chip bag has been opened, it is very hard to close. Close the bag. Go make a salad.

Actually, make this salad: grilled fennel with apples and walnuts on a bed of arugula. These ingredients always make me want to sing farewell like a Von Trapp kid to the end of summer. Fennel -- a year-round plant that is best in these parts of the country in summer and fall - can be a bit too bitter for some people when it's raw. Grilled, however, its intense licorice flavor becomes much more mellow. Fennel also contains natural digestive properties to aid that lingering feeling of over indulgence. At the same time, the first apples of the season are just starting to pop up at the farmer's market and their crispy, tartness is a nice contrast to the fleshy peaches and watermelon that's been abundant this summer. Apples are also heavy on fiber, as are the walnuts and arugula, which is a necessary factor in any hangover survival kit.

As a final note, there's been a lot of blog talk about what to do with all of those emergency canned goods that you stock piled under your bed. After using the chickpeas for hummus, make space on your shelves (and in your heart!) by donating the rest to a food pantry like The Food Bank of New York City. And, yes, you should also take the tape off your windows.
---
Grilled Fennel, Apple and Walnut Salad
This salad can be made raw if you don't have -- or don't feel like using -- a grill. The fennel can also be roasted at 375 degrees for 20-30 minutes. I used Honeycrisp apples for their tartness but Granny Smith would work well, too.
INGREDIENTS
1 fennel bulb, fronds removed (but reserved), quarted
1 Honeycrisp apple, thinly sliced
¼ cut walnuts, chopped
1 lemon, cut in half
1 cup baby arugula
2 Tbsp + 1 tsp extra virgin olive oil, divided
salt and pepper to taste
DIRECTIONS
1. Toss fennel with 1 tsp olive oil. Rub lemon flesh on the inside of oil spoon so it's slick. Over a medium flame, grill fennel and inside of lemon until tender and slightly charred. Remove.
2. In a large bowl, toss arugula, apples and walnuts with remaining olive oil.
3. When cool, chop fennel and add to salad mix. Season to taste.
4. Arrange on a plate and squeeze grilled lemon over salad immediately before serving.


Mallory Stuchin, a native Manhattanite, is the food editor for joonbug.com. She is also a natural foods chef and has worked for Mario Batali. Her writing has previously been featured in The New York Observer, Glamour and Maxim, as well as other publications in New York and Los Angeles. Mallory has also studied Ashtanga yoga in Mysore, India and has taught classes at PURE Yoga and New York University. You can follow her on Twitter @malstuch.